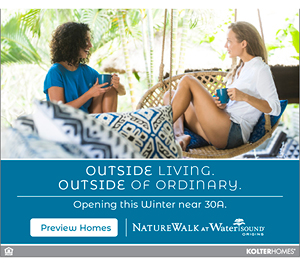 By Rita Sherwood
"This is definitely a milestone to celebrate and I'm very proud of our entire team!" says owner Scott Lightsey.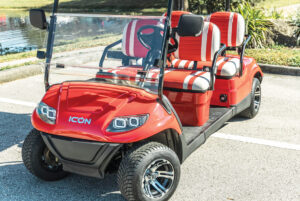 This locally-grown business started as a small golf cart service and repair shop in Fort Walton Beach. Before long, the business moved to Mountain Dr. in Destin to get closer to its customer base. After only two years, it became apparent that the demand for the services that Ecco Motors offered were greater than the 2,000 sq. ft. building could physically handle. So, in 2007, Ecco Motors transitioned into a 12,000 square foot building in Miramar Beach, while later acquiring an additional 10,000 sq. ft. building in Destin that is dedicated to their dry storage program.
By 2018, as all aspects of the business continued to grow, the need for additional space could not be ignored yet again, and Ecco Motors transitioned its sales team to a 8,000 sq. ft. sales center building on Hwy. 98 in Destin across from Regatta Bay.
Currently operating in three locations, Ecco Motors offers sales, service, parts, custom builds, dry storage, LSV rentals, field service maintenance and maintenance programs and has 18 dedicated staff members.
Scott's business philosophy is simple: "Hire good people, take care of our customers in a professional and courteous manner and the business will take care of itself." He goes on to say, "I believe that being customer focused and true to your word are strong contributors to the overall success of Ecco Motors. We ensure that in all aspects of the company, we put our customers' satisfaction first. An added benefit of this is that, over the years, many customers have turned into great friends."
And what prompted Scott to get into the golf cart business? He'd tell you about the first electric car he and his friends built back in 1997. His friend had an electric car back then, and he wanted one, too. Little did he know that after everything was built from a mere fiberglass shell, that it actually would go 110 miles per hour! But no fuel tank, no turn signals, no taillights? How could this be? Who knew? Therein lies his love for electric cars. So much, in fact, that they would drive it from Manhattan, N.Y. to Washington D.C., to educate and show it off to kids along the way.
With more than 30 years of automotive service experience of Japanese cars in Tallahassee, Scott was pretty burnt-out by 2002. But by 2004, the memory of building his first electric car ignited his passion for Ecco Motors, and soon became a golf cart repair center, and then expanded into sales and service.
A small business mentality has served Scott well for the last 15 years. He tells the story of an older couple who bought their first golf cart from him 10 years ago, and had come in recently to trade it in for a new golf cart. He talks about how fun it is when multiple family members come in and buy different golf carts from him. He enjoys getting to know his customers and maintaining those relationships for years to come. Whether it's sales, service, customization or storage of that golf cart, Ecco Motors does it all. Scott says one of the best service components that he offers to his customer base is the pickup, cleaning, maintaining and storing of their golf carts that Ecco Motors then delivers when those customers return to town.
Scott talks about the differences between driving a golf cart vs. a car. He says instead of being trapped in a closed environment with passengers in a car, it's much more fun to be in an open environment driving a golf cart where you're sharing that experience with others around you. He alludes to a study that revealed that in a traffic situation, the open style cockpit of the golf cart coupled with the speed of only going 25 mph, actually became a calming device which made people slow down, and ultimately, made them more relaxed.
And what does the future hold? "Technology will probably continue to get better," he says, "which means longer batteries and faster speeds."
And what's the new trend? "How about the electric bikes that are all the rage in Europe? You should see all the people at the trade shows gravitate toward them," Scott says. Ecco Motors has these. With wider tires that would work well even on the beach, and the capability to go 25 mph, these bikes are on the cutting edge. What's the down side? Well if you run out of battery, you have to ride it back. That's not so bad, after all, it's just like riding a bike!
Ecco Motors sales center is located at 36058 Emerald Coast Parkway, Destin, across from Regatta Bay, and can be reached at (850) 837-2600.