Spring has sprung! Blessed with warm sunshiny days and mild pleasant nights, Destin locals and tourists alike flock to our favorite hot spots for tasty eats and incredible live music. So kick back, relax and enjoy! Destin is home to some of the most diverse musical talent in all of Florida with every genre of music to be found right here in our own backyards—lively, soul-soothing or chill. It's just one of the advantages of living in Destin—we locals enjoy much of what tourists experience—but we get to enjoy it year 'round, even during Spring Break! Whether you like country, blues, reggae or rock, read on and we'll point you in the right direction. Some of our other favorite experiences for fun and relaxation include live events and activities. Your entire family can enjoy exciting and laid-back game-playing coupled with some breathtaking scenery overlooking the Gulf or the Bay, local coastal style.
Landshark's Pizza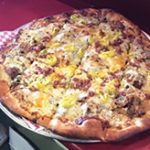 Congratulations to Landshark's Pizza for recently winning 1st Place in two categories at the local Parrot Head Chili Cook Off—Judges' 1st place and Peoples' Choice 1st place for "Hot" Chili! Owners Brian and Sue Hassmann have created the local's favorite pizza, buffalo wings and sports pub and bar that serves both great pizza AND awesome wings for folks of all ages. With plenty of seating and TVs everywhere you look, they have all you need for a great time out. The wings are a must, the pizza is outstanding, the bartenders are amazing, the atmosphere is exciting and the choice is easy to make. Weekly specials and fun include Music Bingo on Tuesdays at 7 p.m.; 69-cent Wing Wednesdays; BIG 10 and all the Sports Networks; Weekends – Golf and Nascar and there's a full-service bar with 95 different Bourbons and 30 Beers on Draft! Landshark's Pizza has something for everyone including plenty of parking out back. Bring your friends for great food and a great time!
850.424-6743 | 300 Harbor Blvd. Destin | landsharkspizza.com
Tailfins Alehouse and Oyster Bar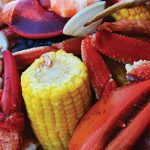 With a super-amazing view of the Harbor and live tunes, Tailfins delivers with three levels overlooking the Destin Boardwalk and water. It's casual, live and locally scrumptious with live music on the top deck and full bar. It's a popular stop for local favorite bands and from all-over bands that love to perform here. Tailfins' Entertainment Complex offers an incredible mix of great atmosphere, excitement, delicious food and drinks along with the stunning views, a combination that's hard to match. Be sure to catch the exclusive Early Bird, Double Happy Hour Special from 4-7 p.m. and again from 10 p.m.-closing from Mon through Fri. with $3 Bud Light Pint, $15 Domestic Bottle Bucket, $5 Long Island Teas, House Wines and Well Drinks. All during April you can come and enjoy live music, dueling DJs and traveling bands, Velco Pygmies playing on Friday nights and Kickstand Jenny on Saturdays. Bring your appetite and enthusiasm and, we promise, you'll be glad you did.
850.650.1200 | On the Harbor in Destin | tailfinsdestin.com
AJ's Seafood & Oyster Bar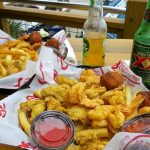 A long-time local Destin hub, AJ's Seafood & Oyster Bar sports a live band or DJ almost every night of the week during the spring and summer. And there's plenty of outdoor seating right in front of the "gi-nourmous" Jumbo-Tron and stage. Club Bimini, AJ's venue for live music and night-time drinks, rocks it later in the evening. You can savor beer and oyster specials coupled with aesthetic views of the Destin Harbor. This now-famous-with-the-tourists Destin Harbor restaurant offers a waterside Tiki Village experience out back. Upstairs, Club Bimini Stage is a popular local venue for top 40 and rock bands. Oh, and bring your dancing shoes as Club Bimini becomes one of the Harbor's hottest night clubs. Popular local bands such as Black Eyed Blonde can usually be found playing. Come in for Prime Rib Thursdays, where AJ's famous tender, juicy Prime Rib is served – $16.95, 4 p.m.-close every Thursday.
850.837.1913 | 116 Harbor Blvd. Destin | ajsdestin.com
Boathouse Oyster Bar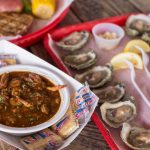 Boathouse Oyster Bar is one of Destin's favorite best kept secrets. Located in the heart of Destin on the Destin Harbor, it specializes in making oysters a delicacy. Boathouse's Gumbo recipe was written by Mama Gumbo herself. More local fan favorites include the Tuna Dip, Cajun Boiled Peanuts boiled to perfection, Wings of Fire served with Ranch or Blue Cheese and Trailer Park Nachos—Yum! Other menu items include American staples such as Grilled Cheese and Hot Dogs. And, of course, the oysters are raw, steamed or baked just the way you like 'em! Boathouse has even been voted Best Oysters and Best Gumbo for the past 30 years. And this Easter, kids can't have all the fun! At Boathouse's Easter Keg Hunt, April 13, 10 a.m., search for jello shot filled plastic eggs. The person who retrieves the most eggs wins a prize. There will be 3 hidden kegs you must find, pour and drink an 8 oz. beer from each to win. First slacker to find and drink from all 3 kegs wins. Proceeds benefit PAWS. Tickets are $30 in advance, $35 day of. Pet Friendly.
850.837.3645 | 288 Harbor Blvd. Destin | boathouseoysterbardestin.com
La Famiglia Restaurant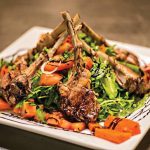 It didn't take much for Pino Tozzi to decide to sell his successful businesses in Rome, Italy, uproot his young family and emigrate to America—just a vacation to Destin in 2005. The rest is history… no hustle and bustle here; just relaxed, the ambiance reflecting the central Italian heritage of the owners, indoors or outdoors. La Famiglia has earned a reputation for serving some of the finest homemade Italian dishes on the Emerald Coast, including Veal Parmesan, homemade pastas and raviolis, and antipasto. Not to be missed, La Famiglia is a local favorite for authentic, brick oven Italian pizza, topped with a variety of traditional and specialty ingredients, including the Margherita, a classic combination of tomato sauce, mozzarella cheese, sliced tomatoes and fresh basil. A big appetite? Try the hand-stretched, 2 ft. pizza on for size! Simply a great place to take the family out for a genuine, Italian pizza experience and memory-making. Open Tuesday through Sunday, 11 a.m.-10 p.m., offering a lunch menu till 3 p.m.
850.279.4527 | 16055 Emerald Coast Pkwy Ste 114 | Destin  |  lafamigliadestin.com
Bric a` Brac Restaurant & Night Club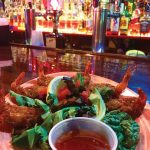 Voted "Best Crab Cakes in Destin" five years in a row, Bric a` Brac is the true definition of something for everyone…a family friendly, kid friendly, American-style restaurant. Bric a` Brac is well known for its super tasty food selections served up in a fun, artsy atmosphere by a truly professional and friendly staff. Locally owned and operated since 2014 by twin brothers Rodolfo and Fernando Petit, their hands on, fun loving style, engaging charisma and true passion set them apart. But it doesn't stop there. Want great food coupled with great fun? Enjoy delicious entrees while you listen to some fun tunes. Live entertainment starts at 7 pm; Karaoke on Thursday night, live music performances by Jones & Company on Friday and Teal Magnolias on Saturday!
Still want more? ~ LATE NIGHT~ Latin Night Fridays & Saturdays from 11 p.m.-4 a.m. will keep the party going.
There is truly something for everyone at Bric a`Brac in Destin.
Shoreline Village Plaza | 824 Hwy 98 E Destin | 850.424.6369 | bricabracdestin.com
The Melting Pot

Truly a one-of-a-kind dining experience, The Melting Pot provides an unforgettable, interactive night out that turns moments into memories. From the time the first piece of bread is dipped to when the last nibble of dessert is savored, you'll learn something new. The menu has fare for every taste, a delicious meal guaranteed, you can count on it. No matter the choice you will not be disappointed. Owned and operated by Lucinda Hollis and her fiance, Auburn Bridge, this restaurant is the one place where the owners encourage their diners "to play with their food." "It's a real joy" says Lucinda, when witnessing customers' first time experiences. So if you haven't already, be sure to "dip in." And, to celebrate National Cheese Fondue Day, April 11, enjoy $4.11 cheeses all night. Then On April 21, enjoy an Easter Day Special from 11:30 a.m. – 7:30 p.m. which includes any cheese, salad and an entree of steak, herb crusted chicken and shrimp. $24 per person. Visit meltingpot.com/destin-fl to view the full menu or make reservations.
11394 US Hwy 98 Miramar Beach 850.269.2227
Tequila's Sports Bar & Grill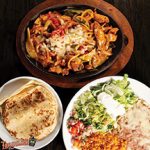 Tequila's has become a local favorite. Margaritas, live music every Friday (a great way to kick off the weekend), and Latin Saturdays where you can dance the night away. A fusion of sports bar food and Mexican dishes this locally owned option for delicious Mexican Cuisine in Miramar Beach combines traditional authentic Mexican recipes with local coastal tastes and bar type fare. Lunch specials offered daily Monday through Friday for $8.99. Some locals' favorite menu options include Quesadilla Mexico and Tequilas Bowl sure to satisfy any appetite. Try an order of the garlic parmesan wings then top it off with an order of garlic shrimp that comes with rice and refried beans – delightful spicy goodness. And, on beautiful days, enjoy a beautiful meal, great food and drinks, on the outdoor patio! On Wed., April 10, Come and watch the groups and schedule unveil for the Gold Cup, 5-6 p.m. EAT, DRINK, FIESTA!!
OPEN 11 am – 9:30 pm, Fri. and Sat. 11 am – 2 am
11225 US 98 W. Miramar Beach  |  850.279.6402