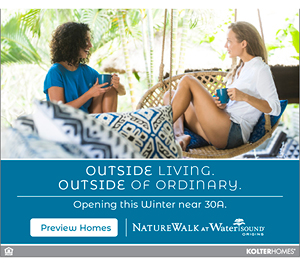 Celebrating 50 Years, 1969-2019
By Lori Leath Smith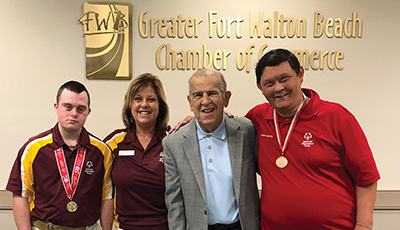 Meet our Hometown Hero, local Special Olympics Florida founder Charlie McFarland, who has something in common with Eunice Kennedy Shriver, iconic Special Olympics national founder. Like Eunice, Charlie believes in the spirit and souls of those who have special needs. Even though Charlie passed the baton to current Director Pamela Sparks, another Hometown Hero, for 40 years he committed himself to helping our local athletes pursue their dreams.
Charlie remembers when it all began: In 1968, 20 students from Silver Sands School in Fort Walton Beach attended a national special needs athletic competition established by the Kennedy Foundation. By May 1970, with still no organized sports for special needs athletes in our area, a state game was held in Ft. Walton Beach through the Foundation and 250 athletes from throughout Florida participated. Two months later a state team of 50 Florida athletes, along with 950 additional athletes from the U.S. and Canada, traveled to the first Special Olympics competition held at Chicago's Soldier Field, the national Special Olympics birthplace founded in 1968. Since then, Okaloosa County has sent delegates to USA, National and World Games. "At first," says Charlie, "all games were held at one time each year. But, later, due to the increase in the number of participants and the desire for the athletes to compete in different sports, Special Olympics became summer and winter, and then year-round." The first Florida Winter Games were hosted in Fort Walton Beach by Eglin Air Force Base.

"In 1985, there was an athlete that wanted to participate in winter games. So, we went to Boone, N.C., and he won a gold medal in Alpine Skiing! He had never skied before, yet won the gold!" chuckled Charlie. "In the early days, we had some celebrities, such the vocal band Alabama, Reba McEntire, Mickey Mantle and others who assisted me with funding to help Special Olympics get started here," says Charlie. "We also have the only non-military flag in the world that has flown into space aboard the space shuttle Discovery in 1985!"
Pamela's initial participation with Special Olympics was as a "Fan in the Stands" as her son, Chase (now a 16-time medalist) and his teammates participated in Special Olympics basketball through Silver Sands School in 2005. As her passion for the athletes grew, Pamela felt led to leave her six-figure profession in 2016 and accept the offer as Okaloosa County Director to give the athletes a voice and grow the program. What's most important to her is the athletes' quality of life. "Sports is secondary," she says. "It's really all about their health and wellness. Special Olympics Florida is a community where everyone has the lifelong opportunity to develop physically, socially and emotionally through sports, wellness and leadership training."
Special Olympics Florida – Okaloosa County provides year-round sports training and competition to children and adults with and without intellectual disabilities, at no cost to the athlete nor the unified partner. "Locally we offer 18 different sports to athletes ages 8 and up helping to develop their fine and gross motor skills, showcase their talents and help achieve physical fitness—the best of all—athletes never age out," says Pamela. Local athlete, Ann James, age 61, won her first Gold Medal in 1969 (age 11) in S.C. and 50 years later she just won another Gold Medal at State Swim this past October. "Special Olympics is their life! With multiple teams per sport, it's not one event, but sports, games and competitions that occur almost 365 days a year," Pamela says. "And research shows athletes achieve better academics, gain self-esteem and life skills necessary to be productive, respected and contributing members of our community with increased public awareness of their capabilities and needs." Currently 510 athletes in Okaloosa County compete in Basketball, Bocce, Bowling, Cheerleading, Cycling, Flag Football, Golf, Gymnastics, Pickleball, Powerlifting, Soccer, Softball, Stand Up Paddle, Surfing, Swimming, Tennis and Volleyball and soon to offer Equestrian. Each sports season lasts approximately three to four months with at least eight weeks of training and three levels of competition: County, Area and State Games.
Statewide, the program serves over 54,000 athletes including Unified partner and Young Athletes and Okaloosa County is a great contributor to that growth. Included in our local area are students, unified partners and athletes from several local area middle schools and high schools. The Stem Academy offers Pre-KD for the Young athlete program (YAP) ages 2-7.
In summer of 2022, Disney World will officially host the 2022 Special Olympics USA Games at the ESPN Wide World of Sports Complex Summer of 2022. "This event will mark the largest humanitarian event in Florida's history!" says Pamela. "Additionally, we will celebrate the 50th anniversary of Special Olympics Florida!"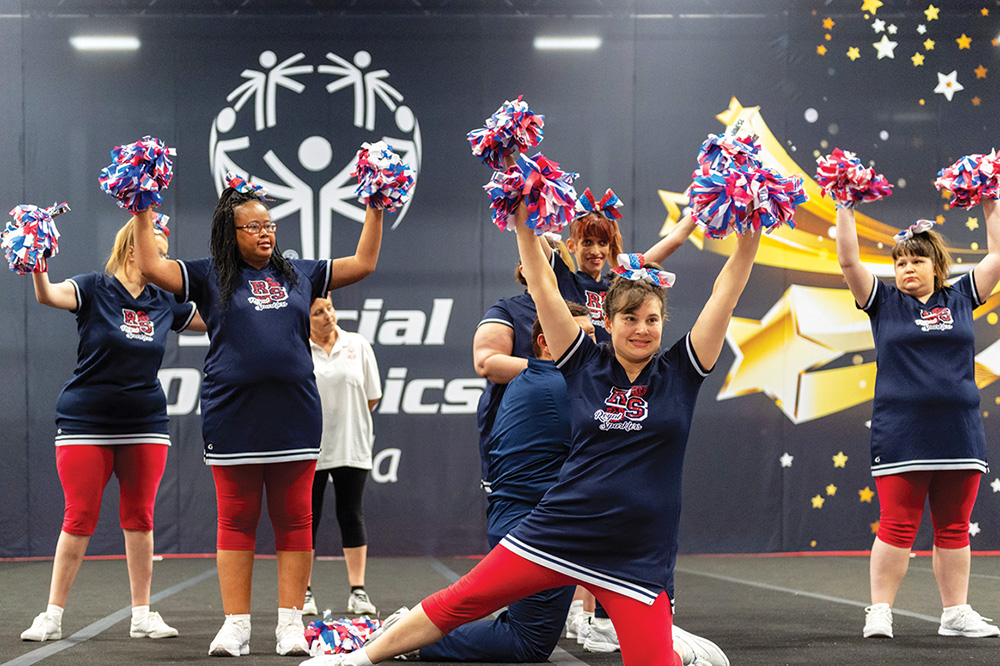 Special Olympics never charges for participation regardless of demographics or economics. "We provide everything from water, uniforms, equipment, transportation, food and lodging," says Pamela. "Locally we're not government funded; we depend on individual and corporate contributions and fundraising; so, every dollar matters and volunteers are vital as we have no paid staff." One way you can help is by ringing in the New Year with live music, the tribute band of Journey and Bon Jovi, Dec. 31, at Village Door Music Hall at Seascape as casino tables and dealers are brought in from Mississippi! The party begins at 8 p.m. with welcome drink, buffet, $1000 in chips, poker tables from 8 – 11 p.m. and, of course, a midnight champagne toast! Tickets are $99 per person. Purchase at VillageDoorMusicHall.com. 100% raised benefits Special Olympics Florida. Sponsorship and door prizes are needed.
"Fifty years ago, few knew the potential hiding within people with intellectual disabilities," says Pamela. "Today, our community can witness our athletes thriving, not only on the playing field, but also throughout the community. We challenge you to help us as we continue to grow the number of athletes, strive to provide the highest quality programs and create a more inclusionary world." Please contact Pamela at (850) 264-9901 or visit specialolympicsokaloosa.org for more information or to become a sponsor for the New Year's event.