WMBB News 13 reporter Peyton LoCicero, a Destin native, was named as the 2019 recipient of the prestigious Dick Fletcher Excellence in Media Award. The award was given for her coverage of Hurricane Irma and Tropical Storm Nate, but most importantly, her coverage of catastrophic Hurricane Michael before, during and after the storm devastated the majority of WMBB's viewing area, along Florida's Panhandle. These efforts, along with her ability to "rally" and motivate the surrounding communities to help those in need after the storm, provided critical help and resources to those hit hardest. Peyton was nominated by Walton County Emergency Management Director Jeff Goldberg and Public Information Officer Louis E. Svehla. The award was recently presented to her at the National Governor's Hurricane Conference in Palm Beach.
"Meteorologists, newscasters and news organizations from across the nation were nominated for this honor making the entire WMBB news team proud that our own, Okaloosa/Walton County reporter, Peyton LoCicero WMBB, was chosen as the 2019 Dick Fletcher Excellence in Media award winner. Peyton single-handedly represented WMBB during Hurricane Michael when we physically couldn't," said Tom Lewis, WMBB News Director.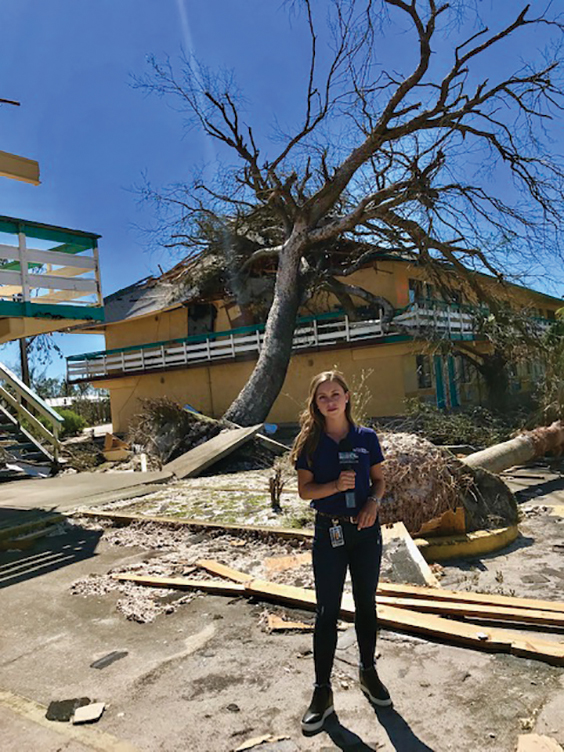 The award is presented annually to one newscaster or one news team in the nation. Peyton, who has been a reporter covering Walton, Okaloosa and Bay counties since 2016, was selected for her dedication to providing the public with timely, honest emergency management information. "During the most recent weather event, Hurricane Michael, she made it her priority to push out information specific to Walton and Bay counties and the surrounding areas. During Hurricane Michael, WMBB in Panama City took a direct hit from the storm and was knocked off the air. She made it her mission to continue to provide information to the public without much communication from the station. She continued to provide live news feeds via social media which was one of the few ways residents in impacted areas were able to still receive information. Her dedication and willingness to put herself in harm's way to provide information to the public was honorable. Following the storm, she played a crucial role, providing information on what people could do to get assistance through channels that had been set up from shelter to food. It has been evident over the years that Peyton has dedicated herself to assisting the public in news and weather event preparedness, event coverage and event recovery.
In the nomination, Svehla and Godlberg commended Peyton for her "exceptional collaboration and partnership with the Walton County Department of Emergency Management in educating the public about hurricanes and hurricane preparedness, response and recovery in the state of Florida. Peyton demonstrated exceptional skills as a broadcast journalist by communicating information during a catastrophic national weather event, by making it understandable to the layperson with an on air persona that exudes confidence and creates an atmosphere of trust with all of her audience while providing life-saving information."
"I am deeply grateful to be recognized with this award. More importantly, I want to pay tribute to those who were impacted by the storm, to those who continue to put their lives and homes back in order and to those in our surrounding communities who gave of their time, talent and financial resources to help those in need after Hurricane Michael. It has been a community effort to rebuild and recover and I'm honored that you trusted me to provide information to prepare you for the storm's arrival and allowed me to share your stories with our viewers, post storm," Peyton said.