The city of Destin is on its way to having a new Destin High School! In April, the Okaloosa County School Board voted unanimously to approve the Destin High School charter application!
For decades, Destin residents have dreamed of having a high school within the city limits and now, that dream is coming true! The new charter high school will have all of the fundamental curricula but also additional vocational options such as marine science, cyber technology and hospitality.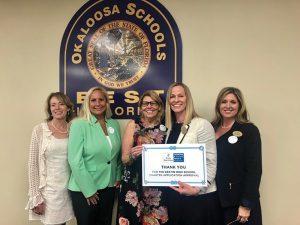 Thank you to the school board, donors, volunteers and all the community. Now that the charter application has been approved the work of "BUILDING" begins:
• Building awareness and support in the community
• Building of a Destin High School campus
• Building unique programming and a strong academic curriculum
• Building a strong faculty
• Building much needed revenue
• Building to open DESTIN HIGH SCHOOL – Summer 2020!
The Destin High School Board welcomes your assistance. There are opportunities for you to serve on numerous committees. For more information, visit Destin High School, Inc. on Facebook.