Warren Buffett said it very well when he said, "Someone is sitting in the shade today because someone planted a tree a long time ago." That's what education and teaching are all about – planting seeds of knowledge, so that the students in our community will be best equipped to go out, enrich the lives of others and make a positive impact worldwide in their chosen profession.
The Governing Board of Destin High School, Inc. announced plans to move forward into a contract to purchase Destin United Methodist Church's Beach Drive campus, with the goal of opening in August of 2020. Initially, DHS will have 9th and 10th grade inaugural classes; the following year the high school will expand to offer 9th, 10th and 11th, and then all four high school grades, in year three. Additionally, the board is committed to offering most high school sports programs, as requested by parents and prospective students.
A vote was taken in July by parishioners of DUMC and HELM (their Administrative Counsel). Results of the vote were positive with DUMC agreeing to move forward. DUMC would move to Grace Lutheran and Grace Lutheran would lease the DUMC sanctuary from DHS. This positive vote will allow DUMC to enter into contracts to sell their property (8+ acres) to DHS and to purchase the Grace Lutheran Church campus. It also enables the Governing Board of DHS to now move forward into a contract for sale with DUMC and move forward with the many tasks to open the new school by August of 2020.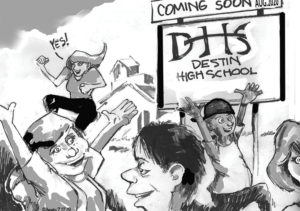 "
Most awesome news
I've heard!
-S. Grice, Destin resident
"
Congratulations Destin High School Board! Y'all have put in so much time and effort and we are so excited to see the progress!
-K. Brannon, Destin Mom
"
It's like a dog finding a good home. It's where they were meant to be.
-H. Stone, Future DHS student
"
This is great news!
-B. Flynn, Destin Dad
"
Congratulations! So
needed for Destin students and their families!
-J. McCabe, Destin fan
"
AMAZING news! Great job! We look forward to pouring into this in the months/years to come! #4kids #bigwin!
-J. Saviola, DHS supporter
"
Such wonderful news and thank you to the DHS board for all of their hard work!
-Dr. and Mrs. Bawa, Destin parents