By Lori Leath Smith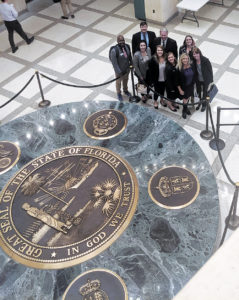 One of the best ways to learn is by doing. As business professionals and community leaders, the Destin Forward class has a goal to learn as much as possible about our city, our region and about our state government and history. So, instead of reading about it in a book, we took a day to explore the Florida State Capitol in Tallahassee.
The Capitol Complex, headquarters for state government, comprises the 22- story Capitol building, the House of Representative and Senate Chambers, the Historic Capitol and the Knott Building. Having officially opened March 31,1978, the Capitol building houses all branches of government other than the Supreme Court. A highlight on our tour was the 22nd floor which offers a 360-degree, breathtaking view. The number of people in the Capitol during a normal workday is 1,500. During the Legislative session, this number increases to over 5,000. The day we visited, there was a large contingency of people protesting for gun control and FSU was on site for Advocacy Day. The Florida Supreme Court meets in the beautiful columned building directly across the street from the Capitol building.
Behind the Capitol building, we stepped into history— two floors of the Historic Old Capitol building restored to its 1902 version and displaying numerous historical facts. Here you can see the Senate, Supreme Court, House of Representatives, and Governor's office as they were in 1902. Even the stained glass dome in the Rotunda was recreated as a replica of the original. By the way, did you know Florida was named by explorer Ponce de Leon in 1513. The name "Florida" comes from the Spanish word "florido," which means "full of flowers" or "flowery."
For lunch, we headed over to the Florida Chamber of Commerce where Edie Ousley, Vice President of Public Affairs, discussed Florida's economy. Did you know Florida has 21.8 million residents? It had 127 million visitors in 2018! Okaloosa County has a population of 207,269 with an estimated population range in 2030 of 214,300-236,900. The unemployment rate is 2.3%, below the national average. Over the past year, one in 10 jobs created in the U.S. were created in Florida, and Florida would be the 16th largest economy in the world if Florida were a country! Edie says the Chamber's goal is to encourage a business friendly climate for private-sector jobs and contribute to Florida's economy. By 2030, Florida is expected to be home to more than six million new residents and will need to create and fill nearly two million new jobs.
Back at the Capitol, we heard from several state leaders and organizations such as Dana Young, Executive Director of VISIT Florida, a much-needed and vital marketing organization for our state. With a 27% increase in adventure travel, 24% in family travel, 53% increase in millennial experiential travel, and 41.1% increase in winter travel, many from Canada, it's no wonder VISIT Florida stays busy while contributing to these statistics. According to Dana, "For every four travelers coming to the U.S., one is coming to Florida!" Florida visitors contributed $85.9 billion to Florida's economy and supported 1.5 million Florida jobs in 2017.
Florida Rep. Mel Ponder was on hand to speak to our group as well. He's been Instrumental in advocating for VISIT Florida among many other issues such as special needs training, and has been awarded for his dedicated commitment and support for furthering the mission of the Florida College System. Ken Lawson with the Department of Economic Opportunity spoke about the importance of servanthood in all departments. Secretary Chad Poppell spoke about how Gov. DeSantis has charged him with review of the Department of Children and Family Services with fresh eyes and a new perspective, working to ensure Florida families have the highest quality of services available in their times of need and that they are delivered at the best value to taxpayers.Boarding a bus at 6:30 a.m. was challenging, but, as you can see, the day was well worth it!