By Ron Sandstead, Flutterby Antiques
Driving across the Marler Bridge into Destin and looking at our gorgeous emerald water and white sand is always a thrill, but difficult to describe. This is one of the reasons we have asked local artists to create art for our Destin Banners that reflects the beauty of our area. Truly, a picture is better than a thousand words.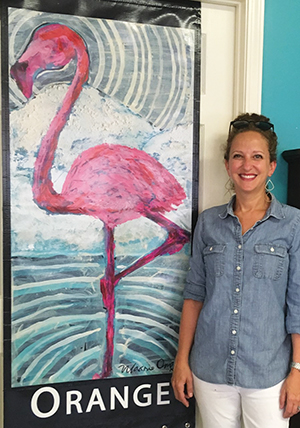 Artist Maxine Orange has been creating art since she was a child with crayons. From Montgomery, the University of Alabama was an easy choice, and she graduated with a Graphic Art Design degree. Before moving to Destin with her husband in 2012, she held jobs as a graphic designer in New York and in Orange County, California.
Maxine's artwork has a textured abstract style and often combines a variety of materials including grout, acrylic paint, and epoxy. She is a member of the Cultural Arts Alliance of Walton County and the Mattie Kelly Arts Foundation. Among her projects this year, Maxine and her team contributed to the Underwater Museum of Art in Walton County. She was the designer and body model for the sculpture "Love Thyself," which was placed one mile off Grayton Beach in 60 feet of water. Although not currently a diver, she has plans to get certified so she can visit the museum and see her sculpture.
Maxine believes that creativity gives balance to a person's life. She feels everyone should spend a part of everyday doing something creative – whether it is building houses, cooking, working with wood or painting. She habitually spends as much time as she can in her home workshop where she is able to be creative.
For her banner, Maxine created a mixed-media painting of a flamingo. When asked why, she replied that she "loves flamingos, because they are pink." Thankfully, this magnificent pink bird didn't become extinct during the '50s. As their numbers continue to rebuild, we hope to someday see flamingos here in the Panhandle. By the way, I like pink too.
Maxine is known for her abstract bridal and anniversary portraits that she paints from photos. She can be contacted through her website MaxineOrange.com or email at maxineorange@gmail.com.
Jeslyn Cantrell Sebold has been an artist since she was old enough to hold a crayon. Seeing her passion, Jeslyn's mother encouraged her and became her first art teacher. While in grade school in Carthage, Missouri, she was inspired by internationally known artist Matt Hall who also lived in Carthage. A 2005 graduate of Gulf Breeze High School, Jeslyn received a Bachelors of Fine Arts degree with a concentration in illustration from the Ringling College of Art and Design in Sarasota. Today, she lives in Gulf Breeze and is married to her high school sweetheart, they recently had their first baby.
Jeslyn has taught art for nine years and especially loves teaching children between the 6th and 9th grade. She believes that "art training at an early age is important for the development of problem-solving skills. Children who have been exposed regularly to art have a higher capacity for solving problems in nonlinear ways than children who have not." In other words, children who have been taught art have a greater ability to analyze problems and come to better conclusions.
Jeslyn chose to paint a sailboat for her banner because she and her mother both love them. To her, sailboats are beautiful and look like birds skimming across the water. Using a combination of acrylic paint and paper scraps cut from maps, Joslyn created a beautiful picture of a sailboat under sail on the water. The paper scraps were placed to look like portions of cloth in the sails. Not only is her sailboat graceful, it is interesting and pleasing to look at.
Jeslyn has an in-house studio where she can teach individually or in small groups. If you wish to contact her for classes, her email is jeskcantrell@gmail.com.
On January 18, 2020, we will be auctioning off our 24 banner art originals at La Paz Restaurant to raise money for future projects. Our sale will be held as a silent auction for the art originals. They will be on display throughout La Paz for a week with the opportunity to bid. Then on the evening of the 18th, there will be an opportunity to place final bids before the gavel comes down. Please be sure to place this event on your calendar, as you will not want to miss it.