Art comes from within and flows through the artist and onto the canvas. It moves. It speaks. It brings peace. It is a language that does not need translation.
By Ron Sandstead, Flutterby Antiques
A friend of mine once told me, "You make your own fun." This is such a simple truth — No explanation is needed. We have all had bad days where we look for someone or something to blame. But that isn't how life works. It is our choice to be happy — to have a good day.
An artist knows how to turn a bad day into a good one. They can go to their studio and loose themselves for hours. They paint, or sculpt or draw — whatever it takes. When they are finished, they are always in a better place. This is why I like artists. They make their own fun!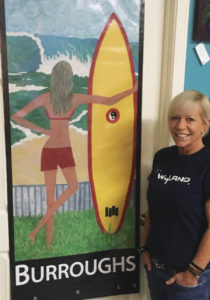 Artist Marsha Burroughs has been "scribbling on stuff since I could hold a crayon." She has a degree in Graphic Design from Florida State University and has worked as a photographer, graphic designer and illustrator for a variety of publications.
After being a live-aboard boater for many years, Marsha is back on land and continuing her adventure as an artist on Okaloosa Island in Fort Walton Beach. Born in Ft. Lauderdale, she has lived in many beautiful places that have inspired her and kept her living close to an ocean.
Marsha loves her life of painting and creating and is happiest now with her "paintbrushes, palette knives and thick rich paint." Her hope is that her work will touch someone. She wants it to not only be aesthetically pleasing, but also thought provoking.
For her banner painting, Marsha chose to paint a young girl relaxing with her surf board watching the waves come in. Marsha used a primitive painting style that accents the basic elements of the scene. It achieves a delicate beauty through simplicity. It is named "Wahini" which means Island Girl in Hawaiian.
Marsha's paintings can be seen at Enlightened Studios in Ft. Walton Beach, and on her Facebook site. Contact her by email at wahini420@yahoo.com or message her on Facebook for an appointment to tour her studio.
Artist, cartoonist and printer Holly Bain has lived in the Florida Panhandle since 1989. Originally from Connecticut, she is happily living in Navarre with her partner, Charlotte. Holly's home is surrounded by gardens, bee hives and pets. She and Charlotte also hatch quail chicks and chickens that they raise. Her other interests are rescuing sea turtles and helping with suicide prevention.
Holly is a professional printer and opened her shop, HLB Graphics, in 2007 where she prints, makes signs and art reproductions. HLB is currently located in Gulf Breeze and is the printer we use to make our Art Project banners. Holly participates with the Arts and Design Society of Ft. Walton as the gallery manager and in 2017 began the Emerald Coast Urban Sketching Group. Like many of our other artists who love children, Holly teaches painting and cartooning at a kids camp.
For her banner, Holly painted a cartoon of a fisherman with a cobia flying over his head— a bit of fantasy — but fun to imagine. Catching one of these big fighters is certainly exciting and would make anyone's day! Being the first to catch a cobia during the spring migration is always a point of pride, and a subject for bets on the Destin docks. Who will be the lucky fisherman this year?
Find Holly on Facebook, on her HLB Graphics website or at her email: hlbgraphics@gmail.com.
Author Note: Our project has grown over the last year. We display eight new banners every few months, and now have 32 banners on Main Street and around Destin. This has been a good beginning, but many people still don't know about the project. We are always looking for new local artists to participate. Since you are reading this, please let your artist friends know. We want them to join us in our effort to change the way our city looks and feels.
I have always loved the honesty and simplicity of children's art. If you have or know a youngster who loves to draw and paint, please encourage their parents to contact us. We would love to feature the child's artwork on a banner. My email is ronsandstead@hotmail.com.