By Ron Sandstead, owner Flutterby Antiques
For an artist, creating is part of being. They don't ask why, they just do. Fortunately for us, we live in a beautiful area and artists like living here. So, they paint what they see and we are better for it.
Our Banner Art Project is being given art created by local artists. We are then displaying it on Main Street banners where it can be seen. It is a joy to get the art displayed. Not only does this make Destin's Main Street more attractive, but we get to show off some of our locals.
You can read about the first two I highlighted last month at MyDestinLife.com. This month, I'm showcasing Robin Cannon and Joy Fine.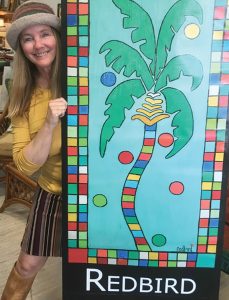 Robin was raised and educated in the Atlanta area and moved to Destin about 30 years ago. She has created art all her life and currently helps others in her gallery, Redbird Art Experience, located on 98 Palms behind Target in Destin. Her preferred medium is acrylic, but she has spent the last several years using recycled materials to create her art. Her gallery is full of driftwood, broken glass, colorful beads, and a variety of parts and pieces. Robin was an early supporter of our Banner Art Project, and was one of the first to donate a painting for a banner. Her colorful and unique palm tree is located in front of the Post Office and is sponsored by Flutterby Antiques. If you are looking for a fun experience with the family, Robins' gallery will give you that opportunity. Michele Stuart says, "Robin and her creative spirit help to guide you, if needed, into a masterpiece unique to yourself." Thank you Robin "Redbird" for your contribution.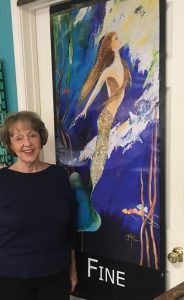 Joy Fine has lived and created art in Destin for the last 24 years. She was raised and educated in Oklahoma and moved here after a career in retail in Dallas. She learned art from her mother who was an accomplished china painter. Her preferred art medium is watercolor and loves painting coastal and tropical scenes. Her work can be found in Emerald Coast Gallery next to McGuire's and at The Destin Pearl in the Commons where she works on Mondays. "Joy's art is colorful, fun, and spiritual and I love having her art in our gallery," says Jennifer Viaene at the Emerald Coast Gallery. Joy also teaches art and prefers the one on one approach. The mermaid she painted for our banner is a classical image of a mermaid swimming toward the light in the ocean. And isn't that what we should all be searching for – the Light. Thank you, Joy, for your painting.