Children's Volunteer Health Network (CVHN) recently accepted a grant totaling $35,000 from the Helping Hands Foundation of the All In Credit Union. These funds will go towards a second mobile dental unit to focus on restorative dental care in Okaloosa and Walton Counties.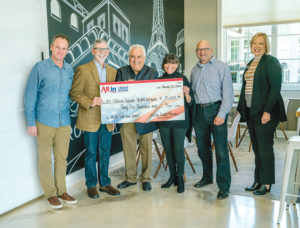 "The children served in our preventive program are in great need of restorative care. Many of these families do not have the resources to establish a dental home. We recently visited a school and conducted exams and x-rays on 170 students. There was total of 306 teeth with decay. 70 of those teeth were permanent." Said Denise Lisciotti, CVHN's Mobile Dental Program Manager. "With a restorative program, we would be able to restore these teeth to prevent premature tooth loss and infection. So many children have toothaches, which interfere with their learning at school. Infection in the mouth can also lead to serious health issues and visits to the emergency room. What a blessing it would be to these students and parents to be able to receive comprehensive dental care."
The restorative mobile unit will consist of a dentist, dental assistant and registered dental hygienist and offer services such as fillings, extractions and root canals as compared to the preventative program that provides free dental exams, x-rays, assessments, cleanings, sealants and oral health education.