By Rita L. Sherwood
We are truly blessed to live in such a giving community; our local heroes are almost too many to count. In part two of our COVID-19 Hometown Heroes story, Destin Life would like to acknowledge the following people and events:
Food insecurity is a nationwide crisis because of all the people out of work and school during the pandemic. This being said, Okaloosa County must make use of every resource available to access fresh and nonperishable food for our local community. On April 11th, Food For Thought and local responders partnered up with local area restaurants Harbor Docks and Local Market, Destin Harvest, Farm Share, PERT, American Lunch, and Event Tents to meet the overwhelming need for free, fresh and nonperishable foods in Okaloosa County. The Destin Drive Through Food Giveaway was created, and a semi-truck loaded with assorted fruits and vegetables, meats, dairy and frozen foods were distributed from 9-1 p.m.
20 volunteers from Food For Thought outfitted with protective gloves and masks, bagged food, directed traffic and loaded trunks of cars as they drove through Morgans Sports Complex. The first 200 people also received Cuban sandwiches prepared by American Lunch. Many local heroes came together for this event to make a difference in many local lives.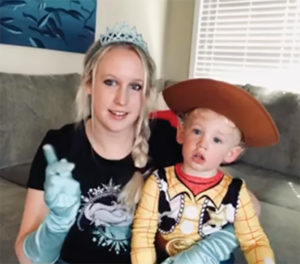 Savannah Smith, a local preschool teacher at Destin United Methodist Church Jacob's Ladder, also is a local hero. After the teachers at Jacob's Ladder created a Facebook page, Savannah invited all of her students' parents to join, and she began keeping in touch with them on a daily basis by recording videos. She and the other teachers would even do theme weeks. One such week was Disney week, and Savannah laughs and says, "One day I even dressed up as Elsa and read a Frozen book on video for my students." Add to that daily bible verses, photos and craft ideas to help keep her students busy during the pandemic, and they even implemented Zoom show-and-tell where all the kids got to show their favorite book or toy. Savannah said it was important to continue a sense of normalcy for her students, because they're so young and don't understand why they're not able to go to school and see their friends. Needless to say, Savannah says, "The parents were really appreciative and this whole process definitely reminded me how much I love and miss my kids; they really are my second children."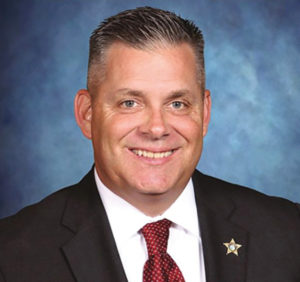 Major Eric Aden from the Okaloosa County Sheriff's Department cites the many local citizens, business owners and volunteers on his "running list" of heroes during COVID-19. Major Aden says, "Can you imagine that a local restaurant closes, but still wants to deliver free meals and supplies for us and first responders? Well, that's exactly what happened." He goes on to list some of the establishments like Peppers, Waffle House and Sam's Club just to name a few. He says that the response has been tremendous and he still can't believe how everyone in our small community came together to donate lunches, dinners, even disinfectants, masks and other supplies.
Major Aden also says, "The forward thinking of Sheriff Larry Ashley to order and have existing supplies of personal protection equipment available to us in case of a similar situation was inspiring." He talks about how it's been a challenge during the pandemic, because it's such a fluid situation and every day has been different. But he's proud of everyone from the troops and deputies out in the field to even their legal team for not only understanding each new policy, but disseminating all of the information and then enforcing it. He says a lot of times it wasn't their place to enforce it, but instead to educate everyone on the new policies, which would come from the county, the state, and the Florida Department of Business and Regulation.
Major Aden goes on to say he's proud of the swift reaction from the Okaloosa County Sheriff's department early on in March, and even on a daily basis and believes there's a direct correlation to the minimum numbers of positive COVID-19 cases and related deaths.
All in all, heroes are all around us. There's not the local restaurant owner, the preschool teacher, or the sheriff only. A lot of times, it could be your friend, your neighbor, even an acquaintance. But one thing's for sure, time and time again, even those less fortunate in our community have stepped up to the plate to help others, and that, my friends, is why Destin is such a great place to call home.
Destin Life's "Hometown Heroes" are sponsored by Better Homes and Gardens Real Estate Emerald Coast. To find out if you qualify for cash back rewards, call 850.837.8880 or visit www.BeALocalDestin.com.