The first Silver Sands Premium Outlets' Classical Connections of the season will be on Saturday, Nov. 23rd, at Grace Lutheran Church at 7:30 p.m.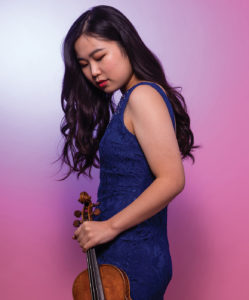 Young Concert Artists Award winner, violinist SooBeen Lee joins Sinfonia and will perform Mozart's "Concerto for Violin #4, K. 218, D Major." Also on the program are the "Overture to Don Giovanni, K. 527," and the iconic "Symphony no. 41, "Jupiter," K. 551, C Major."
Tickets range from $29.50 to $45 with special pricing for students and active-duty military. Go online to the Sinfonia website or call the box office at 850-460-8800.
About Sinfonia Gulf Coast:
Sinfonia Gulf Coast was founded in 2005 on Florida's Northwest Gulf Coast with the mission of redefining the symphony experience. Under the guidance of founder and music director Demetrius Fuller and a dedicated board of directors, the nonprofit orchestra is in its 14th season of innovative musical programming, designed to entertain, educate and inspire the community. Since its founding, Sinfonia Gulf Coast has presented more than 575 concerts and events that have reached over 350,000 patrons, has collaborated with numerous nonprofits and businesses throughout the community and has reached more than 135,000 children through its Sinfonia Guest Artists in the Schools program/music education outreach initiatives. For more information on Sinfonia Gulf Coast, visit SinfoniaGulfCoast.org, call (850) 460-8800 or e-mail info@sinfoniagulfcoast.org.