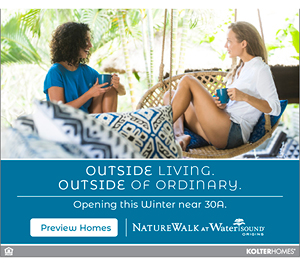 "Over the past few months, there's been quite a buzz over a new Destin High School; things continue to progress toward its opening," says Prebble Ramswell, Destin High School Inc. President.
In October, the Okaloosa County School District voted 5-0 to approve the charter school contract for the first high school in Destin's history and officially the newest school in Okaloosa County. It was also the final step in making Destin High School an official member of the OCSD. The OCSD board reviewed and praised the comprehensive preparation and planning of the 450-page contract to make sure it met Florida's standard for charter schools. And with that, classes are scheduled to begin for grades 9-10 in August 2020.
In July, Destin High School Inc. began the process of negotiating the purchase of Destin United Methodist Church (200 Beach Drive) to be its campus – a $12.9 million, 8.34-acre property. And Tallahassee-based consulting firm Collaborative Educational Network has begun its search for Destin High School's first principal. The school plans to expand after the first year to include grades 9-11 in 2021-2022 and grades 9-12 in 2022-2023. A mascot, logo and school colors will be announced soon.
"But now begins the real work," says Prebble. "We will be conducting major fundraising, recruiting, retrofitting and then opening! Over the coming weeks and months, we invite members of the community to be part of the team to accomplish our opening in August 2020."
Prebble says the biggest initial task is fundraising. "Since the school district is not paying for this school, the community must do so and we need donors of every size. We even have building and classroom naming opportunities for large donors." If you or someone you know is interested in financially contributing, the Destin High School board has a digital fundraising package you can obtain via email at info@destinhighschool.org. "This is an exciting time, but a busy time," says Prebble. "We will need to accomplish a lot and need the community's help to do it all. This is a community project and will take a community effort. We cannot wait to open the doors to DHS!"