The Destin Life office is located at Beachworx in Destin, which is celebrating its first year! So, we asked Steven Franco, President & CEO, the question, "What is Beachworx? We want others to understand just how fortunate we are to have a co-working and networking space so convenient to all we do!
What is Beachworx?
"It's a shared office space for business owners and professionals to work in a flexible, affordable, energetic, and modern coworking space without having to commit to long term contracts and binding agreements," says Steven. "It's a state-of-the-art workplace, constantly innovative, to provide the very best office environment for locals and visitors alike."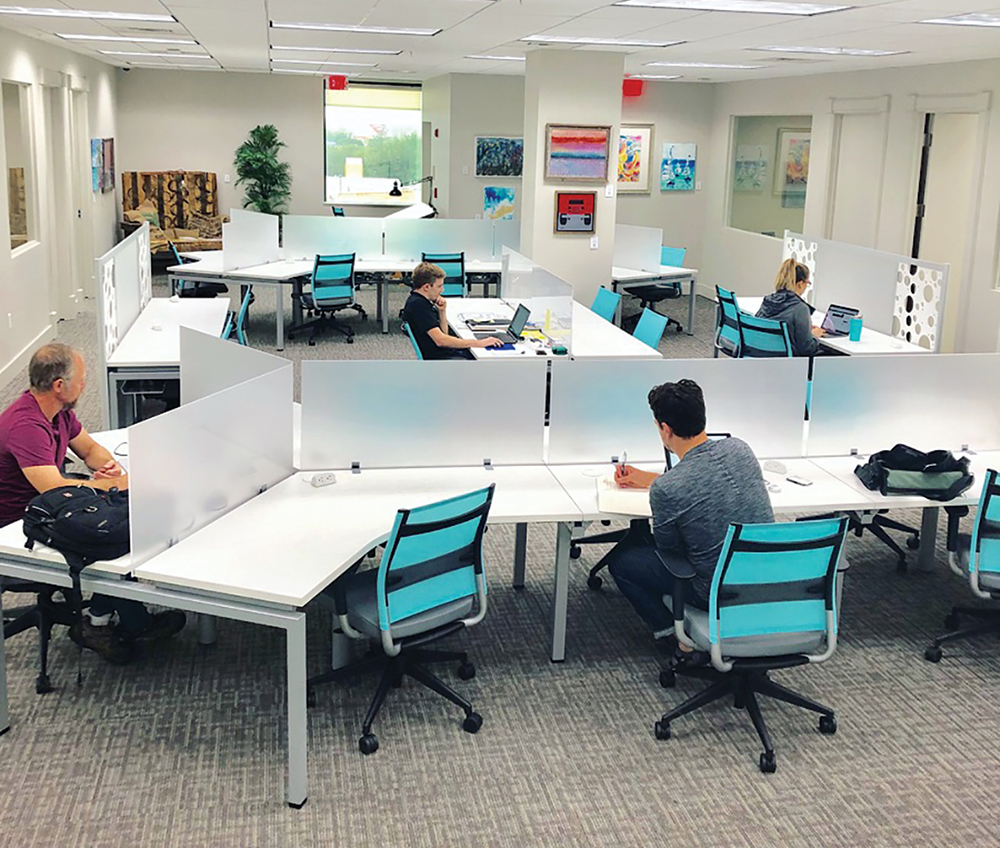 Steven says there are different options according to how you like or want to work. You can work in private offices where you can have your own executive office suite in the heart of Destin. Or, he says, you can also work at a dedicated desk. Have your own private desk in a shared office suite with one or two others. The flexibility encompasses a twist between traditional executive office suites and modern coworking.
There's also Hot Desks. First come first served, these desks are the most affordable options in a traditional coworking setup. Surround yourself with success and work in the shared coworking space with access to all the amenities.
And if you need meeting space, there are board rooms ranging in size that are all equipped with full multimedia capabilities such as Flat Screen TVs, Apple TV & Chromecast for easy presentation, glass whiteboards, conference phones, and more.
Additional business support services include mail and package handling, roadside digital billboard advertising, notary, locker rentals, digital imaging (printing, scanning, copying, etc.), and reception and administrative services.
The membership includes a Member Spotlight where you can get your business featured on Beachworx social media channels and member directories to increase your exposure and introduce you to existing members, visitors and professionals; use of The Hub, a space used for having lunch and casual meetings between members, an area to connect and grow outside of regular client meetings; amenities such as coffee, tea, water, snacks, WiFi access, printing and free parking; beachNETworx, an exclusive invitation only access to personal and professional networking events, seminars and workshops hosted by Beachworx; and opportunities for collaboration, networking and community involvement.
Steven says Beachworx plans in 2019 and 2020 to expand its footprint across northwest Florida into South Walton County, Panama City Beach / Panama City, and Fort Walton Beach. In addition, Beachworx is targeting select sites along Hwy. 30a in South Walton to open Coworking Cafés.
Join Steven, Andy, Lacey and the rest of the partners of Beachworx for a Birthday Bash, May 22, 5:30-7:30 p.m. "This is our way of saying THANK YOU to our family, members and friends of Beachworx throughout the community for all the support we've received in launching this venture over this first year," says Steven.
"And stay tuned," he says, "as Beachworx leads the way in servicing the new mobile workforce and changes how business is conducted along the Emerald Coast!"