To celebrate Women's History Month, Beach Walk Café has partnered with multiple vineyards to host a 'Women in Wine' dinner on March 18 at 6 p.m., featuring the female vintners.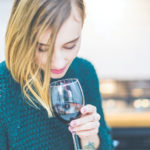 "The wines we're planning to feature have become some of our personal favorites here at Beach Walk," said Food & Beverage Manager Melissa Malcolm. "And with March being Women's History Month, we thought it would be a perfect time to highlight the fact that they are made by women."
According to Growler magazine, only about 20% of California winemakers are female, but that doesn't mean that women aren't creating impeccable wines.
"And, our 'Women in Wine Dinner' is here to prove that," said Malcolm.
Guests will be greeted with a glass of sparkling wine to start the evening then move to a delicious five-course dinner that Executive Chef Daniel Peters has expertly crafted to highlight all the best of each wine.
The courses begin with Crab Louie Stuffed Avocado paired with a glass of Susana Bolbo Torrontes. Course two will be Beef Carpaccio paired with Hess Lion Tamer Red Blend followed by Bacon Wrapped Diver Scallops with Stags' Leap Chardonnay. Then for course four, Peters will prepare New Zealand Venison Steak Diane to go with Penfolds Max's Shiraz/Cabernet Blend, and to finish the night, guests will enjoy a Cabernet Sauvignon Poached Pear with Susana Bolbo Cabernet.
"We've carefully crafted the menu to perfectly pair with each of these incredible wines," said Executive Chef Daniel Peters. "It's a menu I've been really excited about, and I believe the guests will see that when they try the food."
As each course arrives at the tables, attendees will be guided through what makes each wine special as well as information about the incredible women who created it.
To see the full menu, visit www.beachwalkcafe.com. Due to limited space, reservations for this wine dinner are required. To learn more about Beach Walk Café, the wine dinner or to secure your space, please call 850-650-7100.
Led by incredible Executive Chef Daniel Peters, Beach Walk Café remains Destin's only fine dining located directly on the stunning beaches of the Emerald Coast. Nestled within Henderson Park Inn, this award-winning restaurant offers some of the most spectacular views of the Gulf in addition to its delectable selection of food and wine.