By Susan Benton, 30aEATS.com
Royal Reds
Shrimp are one of the most valuable and tasty seafoods found in our coastal waters. The primary species of Florida shrimp harvested are brown, white, pink, royal red and rock shrimp.
Each has its own season, is prevalent at different depths of the Gulf and salinity levels, and is found in different locations around Florida. Brown shrimp are ready for harvest in early June, while the white shrimp harvest is September through October. Pink shrimp are usually most abundant in the spring. But, with a current quota of under 350,000 pounds for the entire Gulf of Mexico, royal red shrimp are my utmost favorite.
I discovered royal red shrimp in the late 1990's, as my stepfather's business is in Pensacola, my second home. Since I can remember, I have been brought along on shopping excursions to Joe Patti's Seafood, a local institution founded by Anna and Joe Patti in the early 1930's that mainly sold high quality fish, and is currently owned by their son Frank. I have fond childhood memories of enjoying the weekends when my stepfather was on call for the hospital, grilling or boiling shrimp together after spending a day on the boat, tubing on the bayou behind our home.
Though shrimp have been consumed by humans since prehistoric times, royal red shrimp were discovered by the U.S. government in the 1950's, and the species were also being developed as an experimental fishery in support from the Bureau of Fisheries, the federal agency that later became NOAA Fisheries. Oceana reports that the commercial fishery of royal red shrimp officially began in 1962 in the Gulf of Mexico, but shrimper's like Frank Patti were already in the works catching them by then. Currently, Frank Patti in his 80's no longer shrimps, but he still holds high court in his special spot by the speaker behind the counter of the bustling waterfront store, calling out the numbers of his customers clamoring to make a purchase. Joe Patti's sees over 100,000 visitors each month, more during peak seasons, and has grown to offer a gourmet deli, prepared foods to go, and has one of the best sushi bars in town. Patti has chosen to import seafood from all over the world, though he does still provide fresh local seafood from Florida Gulf waters, and like me, he still believes that the Gulf shrimp are the best. Again, ask and verify where your shrimp is coming from before you make your purchase.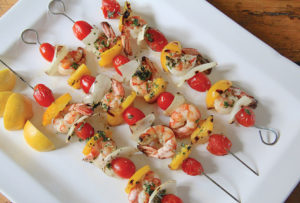 Grilled Royal Red Shrimp Kabobs
Serves 4
Ingredients:
¼ cup parsley, finely chopped
2 pounds (20-20) Royal Red shrimp, peeled, deveined, tail in tact
½ tsp sea salt
½ tsp  pepper, freshly ground
2 large yellow bell peppers, cut into 2 inch pieces
1 large sweet onion, cut into 2 inch pieces
1 container grape tomatoes
2 garlic cloves, crushed and minced
2 tbsp fresh lemon juice
5 tbsp extra virgin olive oil
Splash of dry white wine
Directions
Soak wooden skewers in water for 30 minutes or use stainless. Mix the parsley, olive oil, lemon juice, garlic, and splash of wine in a small bowl. Thread the tomatoes, onion, bell pepper and shrimp alternately on the skewers and sprinkle with salt and pepper. Brush with the olive oil mixture and arrange on a platter. Chill, covered, for one hour. Preheat the grill to medium heat.
Arrange the skewers on the grill rack and grill for 3 minutes per side, turning once, until the shrimp are no longer translucent.
Note: Due to their delicate texture, the cooking time for Royal Reds must be cut in half. Don't overcook them or they will turn too much.
Tip: Try Susan's Basil Pesto recipe on the side with this dish at 30aEats.com.