By Ron Sandstead, Flutterby Antiques
Our Emerald Coast has many wonderful artists. A number of them have joined me in what we call the Destin Banner Art Project. Our objective was to beautify Destin by creating art that could be placed on banners and displayed on Main Street. This became a reality a couple of weeks ago. With this article, I will introduce two of our artists.
Allison Yii's happy painting of a grinning little boy holding up a starfish titled "Look Ma" is located in front of Ace Hardware. Allison grew up in Ft. Walton, attended Choctawhatchee High School and graduated from the University of South Florida with a Bachelor of Arts degree. She and her husband currently live in South Walton. Like so many artists, she is accomplished at a variety of things. Besides being a graphic artist for 29 years, she has worked as a sign painter, photographer and calligraphist. She loves to travel and has recently been to the Sichuan Province of China where her father's family came from. She is a self-described "tree hugger" and loves helping people. Although she never practiced, she became a Registered Nurse in the event she was needed in a natural disaster. Allison is currently the Administrative Assistant to Father Caleb Miller at Immanuel Anglican Church. Thank you, Allison, for your contribution and The Local Market for sponsoring her banner.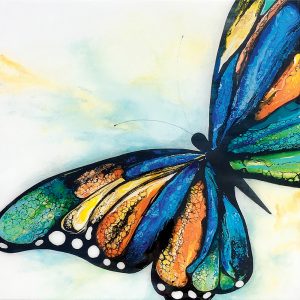 Andrea Chipser's painting of a jelly fish is a beautiful example of a multimedia acrylic pouring technique she has been perfecting for over a year. Her banner can be seen in the median in front of Flutterby Antiques. After graduating from Auburn, Andrea had a successful 10-year career as a graphic artist before turning her attentions to a husband and motherhood. Now that her two children are older, she has returned full force to the art world with her creation of a number of acrylic pieces. These include a beautiful butterfly gifted to my wife and a wonderful sea horse that hangs in Andrea's home. To see more of Andrea's artwork, you can find her on the internet under her "Andrea Chipser Fine Art" website. Thank you, Andrea, for your contribution and Century 21 Blue Marlin for sponsoring her banner.
Our project is accomplishing two goals — getting art on the street and promoting our local artists. To keep it interesting, we will be displaying new artwork every four months. At the end of the year, the original art will be sold to raise funds for the continuation of our project.
Our rules are fairly simple. You must be a local artist and be willing to donate an original work of art that is twice as tall as it is wide. This year's theme is "Coastal." To participate, send a digital image of your artwork to my email address, ronsandstead@hotmail.com. I look forward to our community of artists helping make Destin the best little city in Florida!