By Ron Sandstead, Flutterby Antiques
Artists probably can't tell you why they create. But, they know they feel good when they do it. Usually, they are creating for themselves. And when they are done with a piece of art, good or bad, there is a feeling of "YES, I did it!" There is a sense of accomplishing something special.
Most of us pay little attention to the beauty around us. We have gotten so used to living in paradise that we have stopped seeing it. When that happens, it is important to stop — take a breath — look around — and see what a beautiful place we live in.
Our next two featured artists were able to see this beauty, and put it on canvas.Their artwork was then copied onto banner material and displayed on Main Street.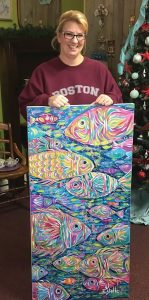 Estelle Grengs grew up in Dover, New Hampshire, and has been an artist all her life. She loved her art classes in high school and was one of those kids that preferred art supplies over Barbie dolls. At 19 she married Matthew Grengs who became a career NCO in the Air Force. While Matt served his country, Estelle and her two children got to see the world moving 9 times and finally settling in Freeport. During this time Estelle continued to develop her artistic style and transitioned from a self-taught folk artist to whimsical impressionism. She sees her artwork as continuing to evolve and is happy with the direction it has gone. Her depictions of fish, boats and waves are all fantastical and tend to prod the imagination. Although succeeding as an artist, she has not given up her day job. She works at Eglin AFB as a civil servant teaching others how to teach children. She also runs an art camp for military children.
The painting she did for our project has many rainbow colored fish in it from big to small and is appreciated for both its detail and colors. Last fall she was honored when her painting of a lobster won the Mattie Kelly poster contest. Her artwork is very unique and can be seen in a number of locations including the recent front page of the Beach Comber magazine, Emerald Coast Convention Center and the Emerald Coast Gallery by McGuire's restaurant. We thank you Estelle for the happy way you see our world! Keep on painting.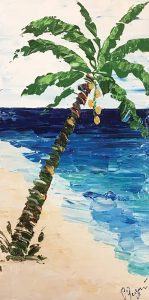 Claire Gagne' was born in Maine but grew up in French speaking Quebec. And, wouldn't you know, after 40 years as a realtor both in South Florida and Destin, she still has a charming French accent. She has a 26 year old daughter and is planning on traveling in the near future.
Claire has been an artist all her life but has only begun selling her work in the last five years. She was mentored locally by artist Don Sawyer who encouraged her to develop her painting skills. Claire's favorite styles of art are abstract and impressionism. She prefers using a pallet knife over a brush — but can do either. Her work can be seen at Kahn's Furniture and Coastal Decor and Emerald Coast Gallery next to McGuire's. Claire's stylized painting of a palm tree on a beach can be seen in front of Destin Water Users. Thank you Claire for your love of painting and your skill.
For most of us, her painting should remind us of how things used to be. Good memories of time spent walking in our squeaky white sand and listening to the quiet surf just feet away. Solitude. Quiet. Calm. Sometimes we just forget where we live and we stop letting ourselves see the paradise we have. After all, we are busy. Run, run, run. Sometimes, it takes an artist who still sees to remind us.
Maybe, we all need to go down to the water — walk in the sand – feel — and see.