By Ron Sandstead, Flutterby Antiques on Main St.
There are many of us who believe that displaying art on the street can help change the way we feel about where we live. Personally, it makes me feel good — especially if that art is created by someone I know. With our art banners displayed on Main Street, our little slice of paradise has become prettier, friendlier, and happier. Yes, happier. After all, who doesn't like seeing a "happy little cloud" on a painting? The next time you are driving down our street and see the banners, you might smile. I do.
The artists featured in this article make me smile. Although being separated by age and life experiences, they are both accomplished artists. One just graduated high school and the other has been married for 56 years. How great is that? Let me introduce Ora Wolfgram and Dill Beaty.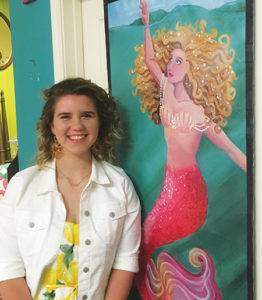 Ora Wolfgram is a charming young lady with an entire life ahead of her. Unlike most young adults, she has a clear idea of who she is and where she wants to go. Ora, 17, recently graduated from Fort Walton Beach High School with a variety of both academic and art honors and accolades and has been accepted into the University of Florida's College of Art & History. She will be studying art and art history beginning in the fall. As an artist, her "About Time" colored pencil portrait (of braceleted hand guiding a foot into a high-heeled shoe) is exceptional. It has won Best in Show four times in the last eight months beginning with the Mattie Kelly Festival of the Arts in October 2018. Ora is a lover of renaissance history and especially the genius and art of Leonardo Da Vinci.
Although mermaids have not been sighted recently, Main Street, Destin would be a good place to find one. For her banner inspiration, Ora painted a beautiful mermaid with big curly hair and a wonderful flowing tail. One of the mermaid's delicate hands breaks through the surf as if she is reaching for something or waving at someone in the distance. You never know — maybe she is waving at you!?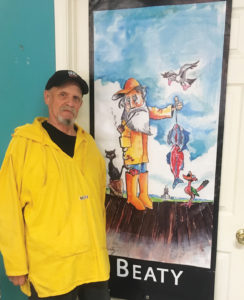 For the last 15 years, I have enjoyed Dill Beaty's cartoons in the Destin Log. I love the way he combines sarcasm, wit, and truth with art. Dill grew up in the hill country of Tennessee and after high school attended the Harris School of Advertising Art in Nashville. For most of his life, he worked as a commercial artist in the Nashville music industry. Dill also has worked as an illustrator of children's books, freelance photographer and mural artist.
For his banner, Dill chose to create a watercolor cartoon of an old fisherman wearing a yellow rain slicker and holding up a string of fish. The cartoon includes a cat sitting on a piling, a seagull hovering overhead, a crab crawling out of a boot, and a bird with his mouth open. All are hoping for a meal. Is it a self-portrait? Maybe — Dill was wearing his yellow rain slicker when the city put up his banner!
After many years, Dill has several thousand cartoons he is considering publishing in a book. If he ever does, I want to be first in line to buy one. He recently painted several murals of a piano, Janis Joplin, and Jimmy Hendrix at Destin's new Rock-N-Roll Sushi restaurant.
Another of Dill's pleasures is entertaining children at the Destin Library by dressing up as a train conductor and reading them stories. They all know and love him as "Captain Dill Pickle." Not bad for a guy who is 80 years "young!"
Banner Artist Heroes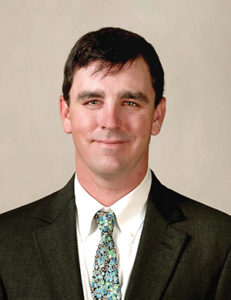 There are heroes all around us. For us, our sponsors are our heroes. They provide the funds to make our project happen. Most of you already know Chatham Morgan. If you don't, you should. Chatham was an early believer in our dream and was the first to sponsor us through his restaurant "The Local Market." As a Councilman, Chatham introduced our project to the Destin City Council. Through him, I was able to present our vision and the Council gave us their approval. That was our true beginning.
After getting to know Chatham, I consider him to be one of Destin's heroes. Not only does he run two great restaurants, La Paz and The Local Market, but he contributes to many worthy causes. Besides helping veterans, Chatham loves to feed people. You can find him in his food truck every Tuesday and Friday behind Destin's St. Andrews giving away free meals to the hungry. He also gives away meals in Tuscaloosa, Mobile, Athens, and Birmingham. Thank you Chatham and The Local Market for supporting our Project — and being the kind of guy I am proud to call "Friend."