By Ron Sandstead, Flutterby Antiques
According to author Seth Godin, "Art is what we call the thing an artist does. It's not the medium – or the oil – or the price – or whether it hangs on a wall – or if you eat it. What matters – what makes it art – is that the person who made it overcame the resistance, ignored the voice of doubt and made something worth making. Something risky. Something human. Art is not in the … eye of the beholder. It's in the soul of the artist."
Our featured artists this month are both passionate about their art and its importance in their lives. Let me introduce you to Lynn Craft and Becky Hart.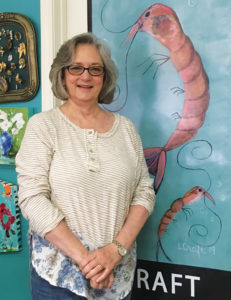 After Lynn Craft graduated from high school in Pensacola, her first jobs were with Dr. Odom and pharmacist Billy Jones in Destin. Her career path led her into banking and she eventually graduated from the Florida School of Banking at the University of Florida. After a 35 year career, Lynn retired and now enjoys painting and gardening. She and her husband Bob have two adult sons, a stepdaughter and two grandchildren.
Lynn was first introduced to art while in junior high school. Her art teacher was so encouraging that Lynn knew she wanted to be an artist. Today, Lynn devotes a part of every day to painting and can spend hours in her studio. Although most of her work is with acrylic, her favorite medium is oil. Her favorite subjects are cotton fields, dogs, sea life and sunsets.
For her banner art, Lynn painted a fun picture of whimsical shrimp. She likes them because they remind her of Destin. She was fascinated by shrimp as a child and used to watch them swim on the water surface – before catching them in a seine net. Lynn also remembers seeing Johnny Sexton sell shrimp out of the back of his truck long before there was a Sexton's Seafood Market.
Although Lynn considers herself a hobbyist painter, she sells her work in the Emerald Coast Gallery and Gifts in Destin. She also loves to paint pet portraits and accepts commissions at LCraft4045@gmail.com.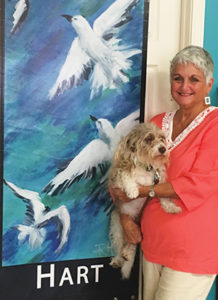 Becky Hart has resided in the Destin area since the 60s when her father bought ten acres on Mack Bayou. From an early age, Becky was encouraged to create art by both her mother and grandmother. She graduated from Mississippi State with a Bachelor's Degree in Commercial Art. After six years in the advertising business in Destin, Becky was hired as a graphic artist for CNN in Atlanta. While there, she earned her Master's Degree in Family Counseling from Georgia State University.
For the last 25 years Becky has traveled all over the world as a contractor for the Department of Defense. Becky is a licensed family therapist and uses art in her work with children. Becky believes the creative process is good for mental health. She encourages them to succeed through art because it is something they can control and feel good about themselves.
When Becky is creating her own art, she completely immerses herself in what she is doing. She isn't aware of anything but her project and is totally "in the moment." For her, being in this zone is a "natural high."
For her banner art, Becky was inspired by a photograph of seagulls she clipped from an old newspaper. In her painting, the brilliant white gulls are contrasted against a variegated blue sky. This scene of swarming seagulls is common. Give one a cracker and suddenly you will have many screeching gulls flying overhead waiting for their treat. Look out for the Bird Bombs!
Becky's artwork can be seen at The Foster Gallery in Sandestin. She also does commission artwork and can be reached at her email: Dier2hart@yahoo.com.
Jerry Sullivan and Century 21 Blue Marlin Pelican is one of our banner sponsors. Jerry and his wife Leslie moved to Destin after he retired from the Atlanta Police Department in 2007. In 2009 he opened Blue Marlin Real Estate and began doing what he could to make Destin a better place to live. Several of Jerry's accomplishments are: Vice Chair of the Chamber of Commerce, President of Trees on the Coast and Chairman of Blue Marlin Charities. Jerry is also a generous supporter of children's sports and Veterans charities. Jerry says he is "proud to be here and a part of our community." I personally am pleased he lives here, glad to call him a friend and believe he is one of our Destin heroes.