Fore Her invites breast cancer patients, survivors and supporters to its 2nd Annual Pink Walk on Sunday, Nov. 3, 2019 at Destin Commons. Proceeds from the half-mile walk and after party will support Fore Her's mission to provide financial assistance to women battling breast cancer in Northwest Florida. Check in begins at 12:30 p.m., and the event will begin at 1 p.m. with a light warm-up. Tickets are $35 for adults and $20 for children five and up (free admission to children four and under). Teams are encouraged. Supporters can also purchase signs in honor or in memory of a loved one who battled breast cancer to be placed along the walk course for $50. The signs can be taken home after the race as a keepsake.
On Nov. 7, Choctawhatchee Audubon Society presents Hurricane Michael: Challenges and Benefits to Shorebirds by Raya Pruner. Come hear Raya Pruner of the Florida Department of Fish and Wildlife Conservation speak on how this historic hurricane impacted threatened shorebirds such as plovers, terns and black skimmers. The presentation will be held in room 302 of the Student Services Center at the Northwest Florida State College Niceville campus. Socializing begins at 6:30 p.m. and the program at 7 p.m. Admission is free and open to the public. Contact Dave Clausen at (907) 321-3701 for more information or visit the website at choctawhatcheeaudubon.org and our Facebook page at Choctawhatchee Audubon.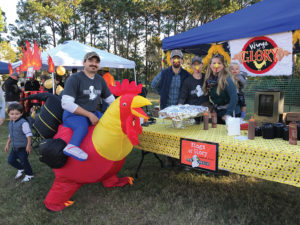 The second annual HolySmokes! BBQ Cook-off will be held Saturday, Nov. 9 from 11 a.m.-3 p.m. on the back lawn at Immanuel Anglican Church on Indian Bayou Trail. BBQ tastings, live music, kids' activities and good food will be available for all. Awards will be given for People's Choice, Judges' Choice and Most Creative Station. To enter your team or sponsor the event, forms are available at iacdestin.org/holysmokes or at Immanuel's church office, Monday-Thursday from 9 a.m.-4 p.m. or on Sunday mornings. Proceeds benefit the Special Operations Warrior Foundation.
The Harvest House Christmas Bazaar is almost here! Harvest House's largest event of the year, tables will be stacked high full of all Christmas related items on this one day – Saturday Nov. 9 starting at 8 a.m. The store will also be open during this time for shopping as usual. There will be free food to enjoy while shopping and a lot of family fun to be had while helping out Destin's Food Pantry.
On Nov. 16 join leader Malcolm Swan, 210-452-4899, at 7:30 a.m. for a bird-walk to the Destin East Pass, West Jetty and Gulf Beach. Discover gulls, terns and shorebirds. Meet at the public parking lot at the South-West end of the Marler (Destin) Bridge (east end of Okaloosa Island on south side of Hwy 98). Bring binoculars and/or camera, wear closed-toed shoes, long pants and a hat. Be sure to have your updated Eglin Beach Permit. See choctawhatcheeaudubon.org for directions to obtain the free permit.
Adopt-a-Family! Emerald Coast Children's Advocacy Center (ECCAC) is seeking donors who will purchase gifts for individual families who have been identified by the Center. Last year, the program helped 197 children in 70 families have a brighter Christmas. Sign up to Adopt-a-Family on-line at www.eccac.org. Or, contact Angie Harder at angie@eccac.org, (850) 833-9237, Ext. 253, to make arrangements. Then shop for the family and bring unwrapped gifts and Christmas wrapping paper for the gifts by Dec. 18 or sooner to the Niceville or DeFuniak Springs centers. For further information about the ECCAC, visit www.eccac.org.
Emerald Coast Physical Therapy is now open. "So many members from the community came together to make our grand opening a successful event," said Dr. Danielle McKinney. "We want to give a special thanks to Ashley Vannoy of First National Bank for supplying the wine and Raven Stevens of Community Broadcasters for supplying Rock N Roll Sushi for the event." ECPT is now accepting new patients both private pay and insurance based. Located on the 4th floor of the Progress Bank building across from Whole Foods, call 850-714-6166 or visit emeraldcoastpt.com.