Rotary Club of Destin
Though The Rotary Club of had to cancel the 8th Annual Destin Rotary Cajun Crawfish Bash Charity Fundraiser due to the Coronavirus pandemic, its sponsors generously agreed to donate their sponsorship fees (totaling $19,500!) to the club's designated charities (Food For Thought Outreach Inc, Harvest House Destin, Mattie Kelly Arts Foundation and Boys & Girls Clubs of the Emerald Coast) so those charitable organizations can put the funds to immediate use during this difficult time. "We therefore want to thank the following sponsors for their selfless generosity: McGill Escrow & Title, Newman-Dailey Resort Properties, Destin Commons, Institute of Diagnostic Imaging, the Kroeger Mainland Foundation, Destin Life, Beach Community Bank, BBVA, Community Management Associates, Coastal Accounting of NW Florida, Destin Stucco Repair, Emerald Coast Title Services, Gulf Coast Shutters, Hand Arendall Harrison Sale LLC – Florida, Harmony Beach Vacations, Carl & Sally Harris, Hays Companies, Crawford & Sally Jones, Robert LaMotte, Liufau McCall Insurance Group, MidSouth Bank, Les and Julie Sacco Porterfield, The Premier Property Group, Progress Bank, Dave Morrow: Allstate Insurance, and Simple HR," said club president, John Toombs.
Destin Rotary looks forward to next year at Mezcal Mexican Grill and Seascape Towne Centre as co-hosts, providing an event suitable for all ages, May 7, 2021!
Our Local United Way
United Way Emerald Coast and its community partners have provided COVID19 relief funds for those in need: 183,000 lbs. of food, 3,920 adults served, 55 children served, 139 prescriptions filled, 9 families remained in stable housing, five families avoided utility disconnection, 1,360 volunteer hours coordinated.
Donors include: Gulf Power, Beach Community Bank, Beast Code, Florida Blue, Truist Foundation, Wind Creek Hospitality, Wells Fargo and more than 30 individual donors.
Community Partners Impacted: Bridgeway Center, Catholic Charities, Feeding the Gulf Coast, Mental Health Association, and Sharing & Caring.
Blue Angels partner with Thunderbirds to Honor Frontline Workers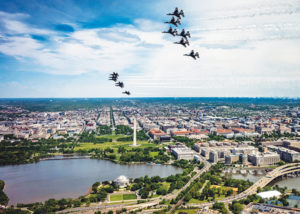 In a show of national unity, the U.S. Navy's Blue Angels and the U.S. Air Force's Thunderbirds have been honoring front line workers in the COVID-19 pandemic with joint flyovers in locations such as New York, New Jersey, Pennsylvania, Maryland, Virginia and Washington, D.C. and Atlanta as a tribute to health care workers, first responders, military and other essential workers there. "Our nation's healthcare workers and first responders who are on the frontlines combatting COVID-19 are a representation of American resolve and the American spirit. They are an inspiration for the entire country during these challenging times. We were filled with joy when we saw the outpouring of love and excitement from these heroes and the many other Americans as they watched the flyover. We can't thank them enough for their hard work and dedication during this difficult time in our nation. We're in this together. America Strong!"
Food For Thought
Food For Thought (FFT) outreach, is a 501(c)(3) not-for-profit organization serving Walton and Okaloosa Counties. This group of dedicated volunteers works to fight child hunger through five, year-round programs with a goal to fight the negative impacts of Child Hunger in the lives of Food Insecure children in grades K-12. Their goal is to support a child's development and educational experience by bridging the gap between school meals during weekends, Summer and Holiday breaks, as well as offering learning and life-skill resources through the Emeril Lagasse Full-Circle Kitchen and our Full-Circle Gardens.
Since the onset of the Covid-19 crisis, FFT has had to change the way they operate the backpack program and volunteers. Prior to schools closing due to the pandemic, FFT created a set of health standards and guidelines for their volunteer staff to follow upon starting a volunteer shift. Guidelines include not volunteering if sick (even a little), wash hands/sanitize before entering pantry, setting up additional hand sanitizing stations, and the group moved to only plastic bags instead of backpacks to help prevent the spread of the virus.
Once schools closed, FFT has continued the same protocols/ standards to keep volunteers and staff healthy, but have modified food distribution to a direct pick-up service, where families can come to one of the three pantry locations to pick up a bag of food for the week. FFT continues to work with the school districts to help bridge the meal gap and provide food to families during this time of crisis. For more information about the Food for Thought Outreach, please call Tiffanie at (850) 290-4056 or visit www.fftfl.org.
DCWAF
Destin Charity Wine Auction Foundation (DCWAF) donated $21,600 to children in need through its COVID-19 Relief Fund launched to assist its network of Northwest Florida children's charities who were experiencing additional strain on their resources due to the pandemic. The relief fund, which launched April 6, raised over $20,000 and will be distributed to three organizations in the form of grants to assist in their sustainability:
Opportunity Place: $1,800, Food for Thought: $9,900, Youth Village: $9,900.
Note: Grants from the COVID-19 Relief Community Children's Fund are separate from the annual funding that each charity receives from DCWAF.
"We are grateful to our supporters who have generously donated funds to help our charity partners as they work to assist those most impacted by the COVID-19 pandemic. We look forward to doing much more when we are able to once again join together to raise our paddles high in late August," DCWAF President John Russell said. DCWAF is one of the nation's premier fundraising organizations, donating more than $21 million to children in need in Northwest Florida since its inception in 2005. Its largest annual fundraiser, the Destin Charity Wine Auction, was originally scheduled for April 24-25 in Grand Boulevard and has been rescheduled for Aug. 21-22. DCWAF is currently ranked #5 on the list of "Top Charity Wine Auctions in the U.S." by Wine Spectator Magazine.
Boys & Girls Clubs Youth of the Year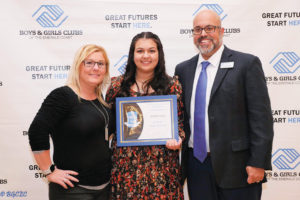 Selected among numerous outstanding youth, Jacinda Rassa has been named the Youth of the Year by the Boys & Girls Clubs of the Emerald Coast. The Youth of the Year title is a prestigious honor bestowed upon an exemplary young person in recognition of leadership, service, academic excellence and dedication to live a healthy lifestyle. Now in its 73rd year, the Youth of the Year program honors our nation's most awe-inspiring young people on their path to great futures and encourages all kids to lead, succeed and inspire. Jacinda will go on to contend for the Florida Youth of the Year title and a $2,500 college scholarship from Boys & Girls Clubs of America. Jacinda's involvement over the last four years with the Keystone Club, including serving as president, has been instrumental in her leadership development. Keystone Club is a teen group dedicated to leadership and community service. Jacinda is always the first one to sign up for community service or volunteer opportunities. In the wake of Hurricane Michael, she worked with other Club members to make and distribute hygiene kits to families affected by the storm. After graduation, Jacinda plans to attend Santa Fe Community College in Gainesville, Fla., and then transfer to the University of Florida.
As one of 26 nominees from throughout the state, ages 14-to-18, who will be recognized, Jacinda will compete for the title of the Southeast Region Youth of the Year and an additional $20,000 college scholarship. Five regional winners will advance to Washington, D.C., in fall 2020, to compete for the title of Boys & Girls Clubs of America's National Youth of the Year. The National Youth of the Year will receive an additional scholarship of $50,000. For more information about the Youth of the Year program, visit www.youthoftheyear.org.