Destin – Fort Walton Beach Taste & Business Showcase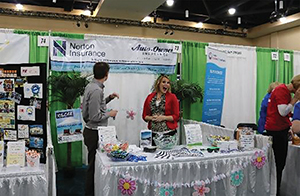 The Destin-Fort Walton Beach Taste & Business Showcase will be held Thursday, March 28 from 4-7 p.m. at the Emerald Coast Convention Center and will highlight our area businesses, from restaurants and breweries to retail, home and professional services. There will be more than 92 booths and a lot of B2B networking! It's free to the public, so there's tons of foot traffic, too!
Enjoy samples, promotional items, discounts and goodies from local businesses. To participate through vendor booth space or door prizes, simply submit your application to the Destin or Fort Walton Beach Chamber no later than Friday, March 15. Contact Bryana Bahmer, (850) 837-6241 or Bryana@DestinChamber.comfor an application or more information.
Paula Deen Restaurant Opens Its Doors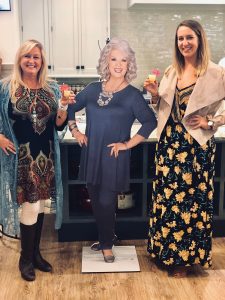 Are you craving some delicious Southern comfort food? Paula Deen's Family Kitchen serves mouthwatering recipes from the Queen of Southern cuisine serving Southern-style entrees and side dishes—family-style food and atmosphere which is what makes it such a welcoming place to dine. Destin Life taste tested some of the dishes, and Wow! The fried chicken is beyond delicious and a must try. The Old-Fashioned Southern Meatloaf is the perfect combination of sweet and tangy. We had to order seconds of the Chicken and Dumplings! It's hard to go wrong with any of the side dishes, but we especially loved the Collard Greens and Creamed Corn. If you thought you didn't like Collards, try these—like none we've ever had! And the desserts: Do you go with Ooey Gooey Butter Cake, the rich and creamy Banana Pudding, or a hot and bubbly seasonal cobbler? Of course, we had to try them all!
Ribbon Cutting Celebrates Set Free To Be Me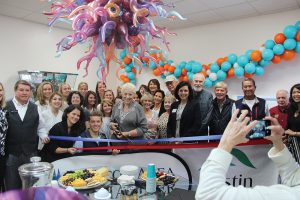 In February, Set Free To Be Me shared a ribbon cutting with the Destin and Walton Area chambers of Commerce to celebrate the opening of its new office located at 151 Regions Way Ste. 2B, in Destin! Operated solely by a volunteer staff, Set Free To Be Me offers a "structured experience for women to recognize personal issues, which limit them from productive and positive living," explains Kay Fant, executive director. See the August issue of Destin Life at MyDestinLife.com—Set Free to Be Me was the inaugural issue's cover story. To learn more, call (850) 650-9601 or visit
SetFreeToBeMe.org.
Trees on the Coast Continues Honor Tree Planting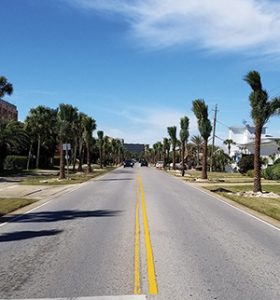 In partnership with individual donors and the Holiday Isle Improvement Association, local nonprofit Trees on the Coast (TOTC) recently donated and planted 44 Sylvester Date Palms along Gulf Shore Dr. in Holiday Isle. Small plaques honoring loved ones are placed by the donor's tree. On Holiday Isle, over 100 trees have been donated and planted by Individuals, Trees on the Coast and the Holiday Isle Improvement Association and line Gulf Shore Blvd.
As TOTC Executive Director Allen French likes to say after every tree planting, "Cost to the City/Taxpayers-$0; Enhanced Beauty-Priceless!" Visit treesonthecoast.com or email info@treesonthecoast.com for more info.
Ride To Fight Suicide
Suicide is the tenth leading cause of death in the United States, yet suicide is preventable. On April 13, bikers will be riding in the Emerald Coast Right to Fight Suicide hosted by the Florida Panhandle Chapter of the American Foundation for Suicide Prevention. The ride will begin at Emerald Coast Harley-Davidson and trek throughout the Fort Walton Beach and Niceville area, ending at Infidels Clubhouse in Fort Walton. In-person registration will begin at 9 a.m. with the ride going kick stands up at 10:30 a.m.—$20 per driver and $10 per passenger. The motorcycle ride supports the organization's education and research programs, and its bold goal to reduce the annual rate of suicide 20 percent by 2025. To become a sponsor, email Donna Williamson at donnawillsrb@gmail.com. To register, visit AFSP.donordrive.com/event/ECRide. You can read more about the organization in the December 2018 issue, p. 25, of Destin Life at MyDestinLife.com.
Fore Her to Host Breast Cancer Support Group
Fore Her, a local non-profit organization helping women battling breast cancer, has launched a breast cancer peer support group which meets the third Saturday of each month at the Coastal Branch Library in Santa Rosa Beach. Meetings begin Saturday, March 16 at 9 a.m. The group was created to provide a safe space for women to discuss their experiences and needs while also providing connections to local resources and is open to those currently undergoing treatment and survivors of breast cancer.
"We would like to bring breast cancer patients and survivors together to talk about what everyone is going through, give advice, just listen and learn about more resources in the area that offer help and hope," Amy Walsh, founder of Fore Her, said. "Since this is a new group it will evolve and become whatever attendees make of it."
Fore Her is a 501(c)3 organization that was started in memory of Founder Amy Walsh's mother and aunt, who both lost their battles with breast cancer. The Santa Rosa Beach based non-profit works to financially assist local women battling breast cancer, allowing them to use the money in any way they need––whether that's paying the mortgage or buying groceries.
"Over the last six years, Fore Her has been able to help ease the financial burden for countless women in our community," Walsh said. "By hosting these support groups, we hope to expand our impact by helping to ease the emotional stress that comes with breast cancer."