Otto's Now Open in Destin!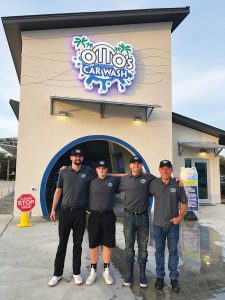 Are you ready for a superior car wash experience? Otto's Express Car Wash is now open in Destin! Otto's offers three access lanes and 24 free-vacuum slots and a fun ride through the wash system.
The Basic Wash: $9
The Express Wash: $12
The Supreme Wash: $16
The Ultimate Wash: $20
Please stop by and introduce yourself to owner Todd Garey and his son, John; they welcome you as a new friend and customer.
34709 Emerald Coast Parkway | Destin | (850) 974-9994 | ottoscarwash.com.
Warren Averett Announces 2019 New Members
Warren Averett is pleased to announce that two area local shave been promoted to members of the firm.
Jason Alves, CPA (Audit, Panama City) Jason leads the Panama City Audit Division and works across multiple industries, both domestically and internationally. Additionally, he is a key member in the Firm's National Transaction Advisory Practice and has extensive experience in corporate and private equity sell-side and buy-side financial diligence transactions.
Matt Walker, CPA, CGMA (Tax, Destin) Matt specializes in consulting, accounting, tax and transaction advisory services. He also has experience in outsourcing accounting, CFO/Controller solutions and the documentation and implementation of internal controls in finance department structuring.
850.837.0398 | warrenaverett.com/offices/destin/
Navarre and Mitchell Join Renasant Bank to Open New Location in Destin
Eric Navarre and Scott Mitchell have joined Renasant at its new location at 36250 Emerald Coast Pkwy. Navarre has joined as Emerald Coast Market President while Mitchell will act as Vice President and Commercial Relationship Officer. Both will be responsible for developing and expanding business and personal banking relationships in the Destin market.
Navarre and Mitchell are both highly active in the Destin community. Navarre was a former board member of the Mattie Kelly Arts Foundation, a former board member of the Walton County Chamber of Commerce, and a graduate of Destin Forward – a leadership program offered by the Destin Chamber of Commerce. Mitchell is a graduate of Leadership Walton, a leadership program offered by the Walton Area Chamber.
CRYO850 Coming Soon!
CRYO850 will soon be opening its doors and is bringing whole-body cryotherapy to City Market Bayside. Unlike traditional partial body cryosaunas, the Emerald Coast "Igloo" uses state-of-the art, refrigerated cold-air technology powered by °Cryobuilt to offer a true whole-body experience without the safety concerns of nitrogen chilling. The head-to-toe even cold exposure provides both physical and psychological benefits. In addition to nitrogen-free whole-body cryotherapy, CRYO850 will offer an array of drug-free performance and recovery services including Localized Cryotherapy, Quick Glow Cryo Facials, Red Light Therapy, Normatec® Compression, 3D Body Composition Scanner, and Vibration Plates. All services are available individually and in discounted packages of three or eight with the deepest discounts reserved for CryoClub members. Charter CryoClub memberships start at $113 for weekly visits. Though CRYO850 will officially open Sat., March 2, charter CryoClub memberships are on sale now through April 2, 2019.
www.cryo850.com; 850.279.4145; info@cryo850.com
Creative Iron Works & Metal Art Studio Now Open!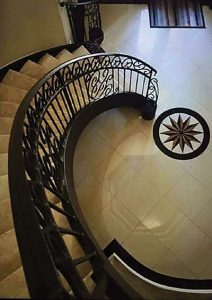 Owners Don and Doshia Smith have opened Creative Iron Works & Metal Art Studio in South Walton. Don, an experienced blacksmith and artist for about 19 years, says he was truly born with a pencil in his hand. He is an artist, designer, metal fabricator and iron-craftsman who puts his heart into his work. For commercial or residential, Don builds and creates ornamental railings and gates, stairs including spiral staircases, fences, door with casings, chandeliers, furniture, sculptures, including the Iron Buck brand, and more. Many of his customers are looking for chandeliers, railings, balcony rails, furniture, entry gates, neighborhood entrance gate, door security guard screens, doors, mail box posts, kitchen hoods, metal rose, functional art in railings or stairs, and any other metal fabricated items. Located off Lynn Drive, prospective customers, builders, developers and architects can contact Don or Doshia to schedule an appointment and get a free estimate by calling or texting (850) 597-0300.
Studio@CreativeIronandMetal.com. | creativeironworksandmetalartstudio.com
Say Hello to the New Hyatt Place
The new Hyatt Place Sandestin at Grand Boulevard recently celebrated its opening with a joint ribbon cutting through the Destin and Walton Area Chambers of Commerce. If you missed it, you can still help celebrate and experience the new hotel at the Gallery Night fundraiser benefitting the arts programs at Port St. Joe High School and Wewahitchka High School in Gulf County, Thurs., Feb. 21 from 6 p.m. to 9 p.m. For more information, call 850.650.7611.
Amber Lewis Named New RN Supervisor for Sacred Heart Hospital Family Birth Place
Sacred Heart Hospital on the Emerald Coast has named Amber Lewis as the new Nurse Supervisor of the Family Birth Place at Sacred Heart Hospital on the Emerald Coast (SHHEC). Lewis has been with Sacred Heart since 2008. Most recently, Lewis served as the nurse educator for Family Birth Place at SHHEC. She graduated from Pensacola State College with a Bachelor of Nursing degree and received her Master of Science degree in Nursing Leadership and Management from Western Governor's University in 2017. In addition to her time as an educator, Lewis has worked in perinatal nursing for nearly 10 years in various areas to include labor and delivery, postpartum, newborn nursery, NICU float, triage, and OB/Emergency department.
Boys & Girls Clubs of the Emerald Coast Announce Annual Dinner
The Boys and Girls Clubs of the Emerald Coast (BGCEC) will host its annual fundraising dinner on Feb. 28 from 5 to 8 p.m. at the Henderson Beach Resort & Spa. Please come celebrate with a sit-down dinner and awards program as key volunteers, community leaders, donors, staff and Club members who were and are crucial pieces to the success of the Clubs in our area are recognized. "The Annual Dinner allows the Boys & Girls Clubs of the Emerald Coast a chance to thank all those who make our impact in the community possible," said Shervin Rassa, CEO of the Boys and Girls Clubs on the Emerald Coast.
Tickets are $50 and include dinner and a cocktail. All ticket sales and sponsorships benefit the BGCEC. "Because of events like this, we're able to build great futures through a variety of programs for the children who come to the clubs," said Rassa.
To learn more, contact info@thehivecreativeconsulting.com or visit www.emeraldcoastbgc.org.