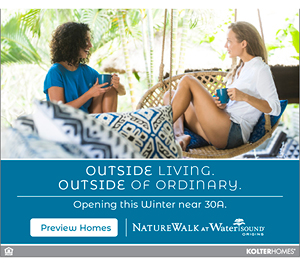 2019 Christmas Outdoor Decorating Contest
Get your holiday on! The City of Destin's Holiday Committee will be selecting the best Christmas holiday decorations in six major categories:
Best Decorated Home: includes single homes, duplexes (best side), mobile homes, etc.
Best Decorated Business: includes restaurants, shops, department stores, schools, professional offices, etc.
Best Decorated Organization: includes entrances to homeowner's associations, golf courses, etc.
Best Overall Holiday: includes all homes, business, and organizations throughout the city limits that go above and beyond.
Best on the Harbor: homes on the harbor.
Best Decorated Condominiums: includes condominium entrances and property.
Judging takes place Dec. 13 – 15 within the city limits of Destin. All decorations must remain up from Dec. 13 – 31. Winners will be announced December 20th and recognized by Mayor Gary Jarvis in January during the regularly scheduled council meeting. Please call (850) 837-4242 or email Recreation@cityofdestin.com to enter the contest.
Challenge Me! A Logic Program for Children
The Destin Library is offering a logic program for children to build upon their thinking skills. Children ages 8 thru 11 will have the opportunity to work with library staff on fun logic games and learn how to play Sudoku. The program runs concurrent to the Teen Coding Club from 4:30 to 5:30 p.m. on Fri., Dec. 6 and 20. Snacks will be provided to those in attendance. Call the Destin Library at (850) 837-8572 or email lharris@cityofdestin.com for more information.
Food-for-Fines Program at the Destin Library
For the last 15 years library patrons have brought in food items to the Destin Library to pay off their overdue fines and in turn support a local charity. From now through January 5, 2019, the Destin Library will be accepting non-perishable food or personal hygiene items for Food-for-Fines. Each item donated is good toward $1.00 in fines. All donated items received will go to Harvest House of Destin, Inc., to help those in need. Last year, $380.00 worth of overdue fines were waived through patron participation in the program. For more information, call 850-837-8572.
Destin Library Offers Early Readiness Program
The Destin Library is hosting an early readiness program on Thursdays in December for cuddlers and toddlers. The program is geared towards 18 months to 3 years of age for story time. Children will learn the beginnings of sitting and listening to stories along with music and movement. Language interaction is emphasized through short read-aloud picture books, talking, listening, fingerplays, and singing. Parents are encouraged to participate with their children. The 30-minute class takes places on Dec. 5, 12, and 18 from 9:30 to 10 a.m. For more information, call 850-837-8572.
Young Professionals of Destin Reboot
Young Professionals of Destin (YP) is making a comeback in 2020! If you would like to be a part of the group, please email mail@DestinChamber.com to be added to the email list. Also, join and share your thoughts on the new YP Facebook group.
Need Some Solid Business Advice at No Charge?
Every Thursday, a representative from the Florida Small Business Development Center (SBDC) at UWF hosts "Shop Talk" Thursday in the Destin Chamber office from 10 a.m. – 2 p.m. There is no charge and no appointments necessary. Stop by and find the help you need.
Crop Drop Successful in Feeding Multitudes
In November, nearly 700 volunteers from throughout the Florida Panhandle joined together in Destin to bag 85,000 pounds of fresh produce to help feed 24,000 individuals during the Thanksgiving holiday. 2019 was year 11 for the Crop Drop, which was launched in Destin by Thrivent Financial. In 2012, Sharing Hands Network came on board as a co-organizer to help expand the program. This year's participating food pantries and feeding programs came from locations across a wide geographic reach from Pensacola to Panama City, and as far north as Florala, Ala.