And the Winners Are…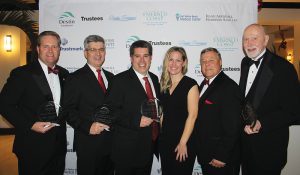 The Destin Chamber presented its annual awards to outstanding community members during its December Holiday Party & Awards Gala. The winners are (left to right) Business Person of the Year Bill Lindsley, SimpleHR; James D. Neilson Sr. Chairman's Award for Volunteer Service Winner Ken Wampler, Newman-Dailey Resort Properties, Inc.; Ann Gibson Community Service Award Winner Jerry Sullivan, Century 21 Blue Marlin Pelican; Sarah Tallent, daughter of the late Ann Gibson who assisted in the presentation of the award named for her mother; Destin Chamber Chairman Bob Perry, Destin Commons and the evening's awards emcee; and Ambassador of the Year Bill Head.
A Taste of Reality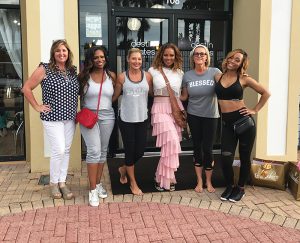 Congratulations to one of our esteemed Destin Life partners! Recently, The Real Housewives of Atlanta stopped into Destin Pilates and Aerial on their recent girls' getaway trip to Destin. In Season 11, Episode 8, Final Destin-ation, the housewives take some time away from the beach to join invigorating reformer and restorative Pilates workouts with Susan and Christine, co-owners. Stars in the scene include Eva Marcille, Kandi Burruss and Shamari Devoe. See Destin Pilates ads on page 10-11 this issue. You, too, can join in their many and diverse training and wellness classes.
Destin Declares State of Emergency for East Pass Dredging
Destin Mayor Gary Jarvis and City Manager Lance Johnson say this measure authorizes the city to take immediate action to ensure the East Pass is appropriately dredged and that sand is placed on critically eroded beaches. "Immediate action to dredge East Pass will ensure safe passage of our maritime traffic as well as protect upland structures from storm surge events," said Mayor Jarvis. The city manager will have authority to make emergency purchases and use city resources as needed to minimize the threat to the health and safety of city residents. The dredging project could begin as early as this March.
Get your GUMBO on!
The Destin History and Fishing Museum will host its Annual Gumbo Contest and Silent Auction on Jan. 26 at the Destin Community Center, 11 a.m. to 1 p.m. Taste samples of the area's best gumbo and help raise money for the Destin History and Fishing Museum. Tickets are $12 in advance; $15 at the door. Restaurants and individuals are invited to enter the contest and silent auction donations are welcomed to help support the museum's largest fundraiser of the year. For more information, visit www.destinhistoryandfishingmuseum.org.
Errand Catchers to the Rescue
Errand Catchers is on the scene! Working heavily in Destin and South Walton with businesses such as Destin Rehab, Brooksdale, Somerby and doctor's offices, Errand Catchers is a valuable solution for businesses short on time or folks needing extra help. Errand Catchers will run errands from grocery pickups, including medications, to taking folks to doctor appointments and even staying with them during outpatient procedures. The company has been serving Destin, Ft. Walton Beach, Mary Esther, Niceville, Shalimar and Bluewater Bay for four years now as well as providing deliveries from Pensacola to Panama City Beach. Services include pickups, drop-offs, etc. for dry cleaning, house sitting, shopping, elderly check-ins, shopping, banking medications, medical supplies, grocery, postal, etc. For help, visit errandcatchers.com or Facebook.com/Errand Catchers, or contact Don and Christine at 850-730-8342.
Boeing Awards Grant to Boys & Girls Clubs
Boeing has awarded the Boys & Girls Clubs of the Emerald Coast (BGCEC) a $50,000 grant for BGCEC's STEM Outreach Program. The goal of the STEM Outreach Program is to broaden science, technology, engineering & math (STEM) programming at BGCEC's eight club sites in Northwest Florida, and to bring together community organizations that share a common goal of providing high-quality STEM and technology-based programming to our community's youth during school breaks and summer. In addition, BGCEC's STEM programming exposes students to high-tech, 21st century learning with equipment and a curriculum that our public schools and other programs are unable to offer.
A Destin Snowbird?
Welcome to the social club with a focus on fun-filled activities for the winter season. Destin Snowbirds meet weekly at the Roost, located in the Destin Community Center at 101 Stahlman Ave. (behind McGuire's). Meetings are held Tuesday mornings with entertainment and door prizes donated by our local sponsors. In addition, there are many activities and events to enjoy. Sign up at a registration event or at the meetings. As this is a non-profit club, activities are reasonably priced at cost and local area vendors offer special Snowbird prices. For a calendar and more information, visit www.destinsnowbirds.org.
Local Student Earns Wings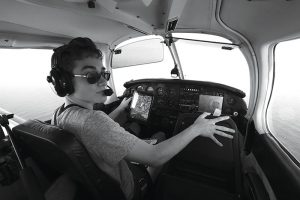 Alex Beer is a high flying junior at Seacoast Collegiate High School, literally. In October, Beer achieved his goal of getting his private pilot's license. Passionate about airplanes since he was younger, Beer began studying to become a pilot in spring of his freshman year. Taking on this goal meant logging many hours of ground school, which is like taking a course on aviation, plus flying with his flight instructor each week. Beer had to learn take offs, landings, different types of maneuvers, emergency situations including engine and electrical failures, stalls, night flying, and cross country flying. He soloed for the first time in November of his sophomore year. He passed the written portion of the private pilot's exam in August, then sat for his FAA check ride, which is a four-hour oral and practical exam.
Underwater Museum of Art Call to Artists
The Artist Call is NOW LIVE for those interested in submitting work for consideration in the 2019 Underwater Museum of Art deployment scheduled for Summer 2019. Application is available via www.callforentry.org (CaFE). Interested applicants must create an account with CaFE in order to view the application. The submission deadline is Thursday, January 31 at 11 p.m. CST.
ArtsQuest 2019 Call to Artists
The Cultural Arts Alliance (CAA) invites artists to apply to exhibit in the 31st Annual ArtsQuest Fine Arts Festival happening May 11 – 12, 2019, along Northwest Florida's beaches. Early Bird Deadline: January 31, 2019; DEADLINE: March 8, 2019. Call the CAA office at 850-622-5970 for more details and apply to the event at Zapplication.org.