First National Bank announces Ashley Vannoy as Destin Area Market President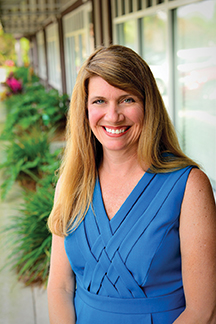 Vannoy will manage and develop relationships within the 30A, South Walton and Destin communities. Vannoy has over 31 years of banking experience in community banking, commercial and private banking. Currently, she serves on the boards of Scenic Walton and Mentoring Emerald Coast. She is also a member of the Caduceus Society of Sacred Heart Hospital, a trustee of the Okaloosa Economic Development Council and a 15-year Rotarian. Ashley and her husband, Todd, reside in Destin with their two children and are members of Destiny Worship Center. Ashley's office is located at 495 Grand Blvd #206, Suite 220. Call at (850) 269-6847 or email at avannoy@fnbdc.com.
Step One Automotive Opens a New Location
Step One Automotive Group has opened a new location, Buick GMC Cadillac, located in Fort Walton Beach previously named Sam Taylor Buick GMC Cadillac, which was purchased from the Hudson family in May 2018. The new dealership brings 60 new jobs to the market and adds to the 200 plus families that Step One Automotive Group already employs.
Clean Juice Opens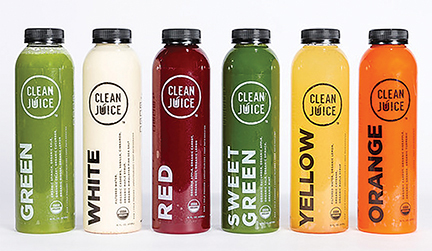 Clean Juice recently opened at The Market Shops at Sandestin and is known for being the only 100% certified organic juice franchise. Clean Juice was founded on the purpose of providing families access to clean, organic products like grab-and-go cold-pressed juices, smoothies, cleanses and açaí bowls, along with specialty toasts and oat bowls. Clean Juice also sells various Juice Cleanses designed to give your insides a little 'R&R' from everything you put into your body. The main goal of the juices is to flood your bodies with countless vitamins and minerals, allowing the body to rid itself of toxin build-up from your usual foods and environment.
Destin Executive Airport Receives Award
The Florida Department of Transportation recently named the Destin Executive Airport Lt. Gen. Leroy Manor Air Traffic Control Tower the General Aviation Airport Project of the Year. FDOT based its award criteria on aesthetics, safety and service to the state of Florida. The tower monitors and directs air traffic in the vicinity of the airport from 6 a.m. to 10 p.m. every day, and has significantly improved the local air traffic which contains a mix of commercial, private, and military aircraft.
Code Club Returns to Destin Library
The Destin Library's popular Code Club is returning. The club, which is entering its third year, is open to all students in grades 5-8 with an interest in learning the fundamentals of programming. This fall's focus will be on app development for Android using the MIT App Inventor, based on the block-based programming language Scratch. Meetings will be held every Friday from 4:30 – 5:30 p.m. in the library's computer classroom from Oct. 5 through Dec. 14. Registration is required, as space is limited. There is no cost to attend. To register please call the library at (850) 837-8572 or email Code Club coordinator Megan Fontaine at mfontaine@cityofdestin.com.
The Sonder Project Announces New CEO
The Sonder Project recently announced Chad Zibelman as its new chief executive officer. He is a returned Peace Corps volunteer, former director for the international non-profit buildOn, and a small business co-owner. He will lead the organization in its mission to strengthen communities through food security, clean water and education. In the U.S., The Sonder Project is partnering in the creation of community gardens to support low income communities, schools, and organizations combating hunger. Its very first garden is currently in progress and is being built in partnership with a local non-profit, Food for Thought, in which all produce will benefit deserving youth through their programs to combat hunger.
Boys & Girls Clubs of the Emerald Coast implements Canine Assisted Learning Mentoring Program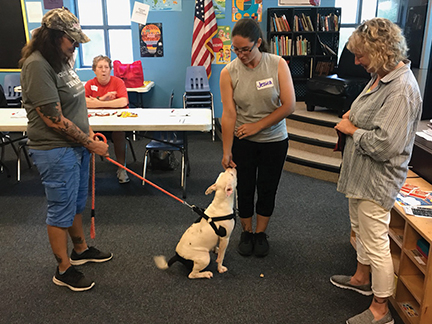 In 2018, Boys & Girls Clubs of the Emerald Coast were awarded Office of Justice Program (OJP) funding in support of mentoring programs for at risk teens. Nearly a year in the works, the organization, in partnership with Pawsitive Works® and the Panhandle Animal Welfare Society (PAWS) in Fort Walton Beach, is prepared to implement S.E.E. Spot, a large group, followed by a small group canine assisted learning program, both focused on the social emotional development of mentees. The programs require a considerable amount of planning from after school training schedules, transportation of animals and or participating youth, volunteer schedules, and even securing dog training treat donations. Contact 208-265-PAWS.
Destin Annual Christmas Parade
The City of Destin's 34th Annual Christmas Parade will be held Sat., Dec. 8 at 10 a.m. This year's theme is Christmas at the Beach. Floats will begin at Downtown Destin Shopping Center (Old Time Pottery) and travel west down Harbor Blvd. (Hwy 98) to Stahlman Avenue. Spectators should stand on the north side of Harbor Blvd. to watch the parade. For those who wish to enter a float in the parade, applications are available at the Destin Community Center and online here. In lieu of an entry fee, each float entry must donate a new toy for a local charity and drop it off at the Destin Community Center along with a completed application. Applications must be turned in no later than Friday, Nov. 30, 2018. Please call the Community Center at 654-5184 for more information.