Captain Leonard Destin Park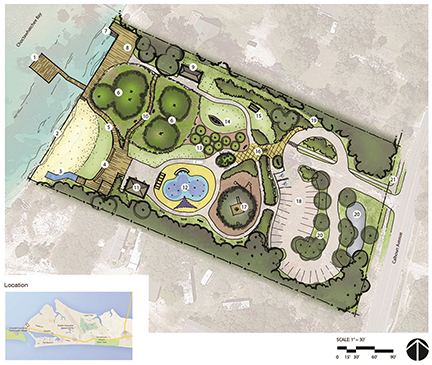 Construction has begun on Leonard Destin Park on Calhoun Ave. in Destin. Upon completion, the park will be given to the city, along with funding for operation and maintenance for 10 years. The property is the former homestead of Leonard Destin, the first person to settle in Destin in the mid-19th century. Funding for the project is coming from the BP Oil Spill settlement.
Bit-Wizards named Florida's 5th Best Small Company to Work For
The annual Best Companies list is featured in the August issue of Florida Trend magazine. One-hundred companies are ranked in small, medium and large employer categories.
Companies that chose to participate underwent an evaluation of their workplace policies, practices, philosophy, systems and demographics. The process also included a survey to measure employee satisfaction. The combined scores determined the top companies and the final ranking. This year, Bit-Wizards ranks fifth on the list of Florida's best small companies.
Destin Commons New Playground
Destin Commons will soon offer a unique amenity for their shoppers. Through mid-September, the Destin Commons kid's playground in Center Plaza will be closed for a fun remodel with a Luckey Climber unique climbing structure that is part jungle gym, part functional work of art, a first-ever in Northwest Florida.
FPRA Announces Awards and New Board
The Northwest Florida Coast Chapter of the Florida Public Relations Association named Kay Phelan, Phelan, Lowry & Associates, as its 2017-2018 Person of the Year. Denise Song, Habitat for Humanity, was named Member of the Year and Misty Rae Rauthruff, Saltwater Restaurants, received the President's Award at the recent board installation ceremony held at Trebeache. Additional nominees for 2017-2018 Person of the Year were Heather Ruiz-Destin Commons, Laurie Hood-Alaqua, Tiffanie Nelson-Food for Thought and Sammy Sanchez-South Walton Fire Dept. Local artist Kurt Lischka, Mook Creek Studios, created the stunning awards for the winners. 2018-19 Board of Directors elected were Secretary – Whitney Lee; Membership – Leslie Moland, APR; Design – Misty Rae Ruthrauff; Sponsorship – Britt Mathews; Image Awards – Denise Song; Communications Co-Chair – Kate MacMillan; Communications Co-Chair – Amanda Bierbaum; Programs Co-Chair – Lorri Silvera; Programs Co-Chair – Shaye Smith; Time & Attendance – Taylor Sheekley; Events Co-Chair – Tovah Locke; Events Co-Chair – Lori Leath Smith; Treasurer – Chelsea Blaich; Past President – Julie Stuckey; President-Elect – Stephanie Pettis and President – Erin Igram.
New Interim City Manager
Destin's Parks & Recreation Director Lance Johnson was named Interim City Manager by the Destin City Council in August. Johnson has worked for the city for 15 years and is a recent graduate from the Florida State University Center for Public Management Program where he earned his Certified Public Manager (CPM) certification.
Kaylea Windes Joins Real Estate Professionals
Real Estate Professionals of NWFL, Inc. announces the addition of Kaylea Windes to its growing sales team. Kaylea has been with the company for over a year in sales support while learning the business from seasoned real estate professionals. She will be teamed with experienced agents as she gets started, but already has a solid understanding of the real estate sales process.
Library Director Begins
Welcome to Wendy Livingston, the city's new Library Director. Livingston comes to us from the Pensacola area where she has worked for the West Florida Public Libraries for the past four and a half years. She previously worked in the library system in St. Louis, for 10 years.
CVHN announces new Executive Director
Children's Volunteer Health Network (CVHN), a local nonprofit organization devoted to providing Okaloosa and Walton County children access to free healthcare services, is thrilled to announce Brian Lowe as the new Executive Director. Lowe, who comes to the Emerald Coast from Boone, NC, has served as the Executive Director of Hope Pregnancy Center for 13 years. There he forged a successful rebranding campaign, expanded programs and created a fund development plan which resulted in a 100 percent increase in income and debt-free purchase of a new facility.
Trees on the Coast/Destin Chamber "Best Landscaping Award"
Hogs Breath Saloon in Destin is the most recent recipient of the "Best Landscaping Award," given by a partnership of Trees on the Coast and The Destin Chamber to local businesses whose storefronts exceed the norm with beautiful street side landscaping. Through this award, the organizations hope to encourage other local businesses to maintain and improve their storefront landscaping. This quarterly award has been given to Destin Commons, Grand Boulevard, Costa Family McDonald's/Destin, Harborwalk Village, The Henderson Beach Resort and now Hog's Breath Saloon.