By Lori Leath Smith
On an ordinary day in January of this year, a dream began to form in local Rev. Dee Chernicky's mind and heart. As a wife, mother, author, weekly radio host and successful business entrepreneur, the former owner of Shakes in Destin was seeking to offer a gathering place that would foster interaction, ignite passion and inspire others. And as she was inspired by the John Waller song, Awakening (The Coffee Song), that happened to stream through her iPad, the idea of a coffee shop developed. "After all, coffee is something that brings people together, creates a sense of community and is a great tool for discipleship," Dee says.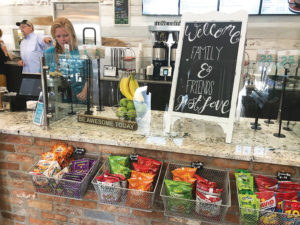 A few months later, Just Love Coffee Café opened! Located in the former McAllister's spot, this sense of community is what Just Love Coffee Café is all about. "Coffee shops offer a gathering place for so many because of their unique ability to fulfill many needs: socializing, studying, working, taking a break, reading, and, of course, great coffee in an atmosphere that uplifts and makes us feel like we belong," says Dee. She envisions Just Love as a community hub, encouraging civic and non-profit groups to meet for lunch and dinner, and locals to do everything from grabbing a bite to eat, hanging out, scheduling a business meeting to getting work done–whatever—with their favorite cup of coffee in a positive, non-demanding atmosphere.
"We hope to offer more than a traditional coffee shop and make it really fun and accessible," Dee says. "Our desire is to help meet the needs of our diverse community, while giving the community the space it wants to meet together." There is a large seating space area suitable for fundraisers, bible study and youth groups and others complete with a stage that can be used for all kinds of events that Just Love can cater. It comes complete with a mic and speakers, and eventually will be used also for Friday open mic nights. Also planned are Youth Wednesdays and Sunday Jazz from 10 a.m. – 2 p.m. Customers have access to a conference room perfect for meetings and interviews with a white board, TV screen, etc. as well.
The Destin location is part of a larger family. Officially established in 2009, Just Love Coffee brand was birthed in Ethiopia. Just Love Coffee Roasters founder Rob Webb and his wife, Emily, wanted to adopt children. So, in 2009, Rob landed in Ethiopia to meet his new adoptive daughters. Little did he know the experience would not only change his life, but the lives of so many others. Through the experience of financial strain that comes with adoption, and hearing many stories of sacrifice and determination by other adoptive families, the business of using hand-roasted coffees to help others whose passion was to "just love" surfaced. The company's first brick-and-mortar location opened in 2011 in Murfreesboro, Tenn. Now, Just Love Coffee is a national brand; if you've visited Texas, Michigan or Nashville's historic Music Row, you might have already seen one. The Destin location is the 18th franchise.
Dee says she initially didn't plan on owning a franchise. But to appease her husband, Wayne, while on a business trip, she attended a meeting in Murfreesboro, Tenn., and was drawn into the Just Love company mission, integrity and concept. In keeping with the company's drive to help others, Dee says "We will be reaching out to local shelters, working with Harvest House and helping to feed the homeless in our area each month."
Just Love's creative and diverse menu goes well beyond the typical fare, offering coffee-accompanying breakfast and lunch options unlike anything in Destin. Examples include gluten-free options for waffles; avocado toast on 0 net carb bread, great for keto diets or diabetics. There's sourdough, 7-grain, 0 carb turmeric, raw organic, coconut, vegan gluten-free wraps that can contain such healthy delectables such as egg with avocado, cheese and tomato; and vegan options. There's even healthy organic smoothies with additives available such as protein, collagen and spirulina.
And finally, but importantly, this is no ordinary coffee! "All of our coffee is hand-roasted at the facility in Murfreesboro, Tenn., to ensure freshness, aroma and taste," says Dee, "and is savored all around the world!"
"My heart is that every guest that walks through the door experiences genuine and sincere customer service, a sense of belonging and a joyful satisfaction in their food and, of course, their flavorful coffee," she says.