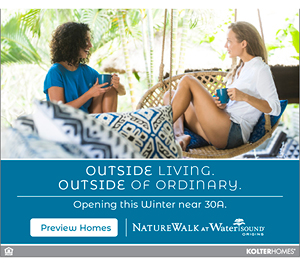 By Lori Leath Smith, Publisher
Since the early 90s, I have often wondered what it would be like to spend some time at Henderson Park Inn— you know, the one located adjacent to Henderson Beach State Park that seems as if it was woven into the fabric of Destin since the area became Destin. This 35-room, upscale boutique resort is known for creating a romantic atmosphere and offering personal service with all-inclusive amenities such as complimentary breakfast, lunch and happy hour at the onsite restaurant Beach Walk Café…not to mention the spectacular, panoramic view of the emerald Gulf! The quaint resort is unique in that it's for adults only, ages 25 and older, with a private beach and deck. No wonder it's been ranked as the number one most romantic hotel in the U.S.
So, when the Inn announced its reopening after we had been waiting expectantly for weeks, I must admit, I was a little itchy to experience a "staycation" on this uncrowded, little slice of paradise…and so, I booked a room! But, I was curious as to how the resort was going to handle new safety guidelines for its guests.
However, we were "wowed" from the time we arrived. Even with safety an utmost priority, no amenity or service was lacking—simply updated to practice social distancing and the utmost hygiene and cleanliness. From the time we parked our car, we were greeted with smiles and our temp taken upon entering. Once we reserved a spot for dinner downstairs, we made our way to the top floor. When we opened the door to our luxurious room, we were greeted with fine wine and chocolate, ready and waiting for us! And if I wasn't already swept off my feet, the view overlooking the beach and the Gulf was breathtaking, especially standing from our quaint overlook outside. I couldn't wait to get out on the deck when evening fell where there was a burning fire pit surrounded by comfy, cozy seats, nestled on the lower deck where we could feel the warm breeze and enjoy the glow. Tiki torches completed the ambiance around the back deck which beckoned us to sit in its hammocks, rocking chairs and loveseat-style swings.
The original resort was built in 1992 by the Abbott brothers, developers from Maine, who designed the resort after Cape Cod architecture, then remodeled after hurricane damage in the mid-2000s. Now, in the 2020 era, rest assured, the Inn and its Beach Walk Café have indeed implemented procedures for optimal safety, impeccable service and utmost comfort. Changes I noticed include keeping in-person contact to a minimum. We simply called the front desk to make any request and it was handled.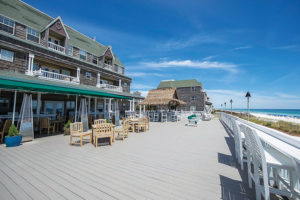 We could order our breakfast the night before for delivery to our room upon waking. Or, we opted to enjoy a cooked-to-order breakfast each morning outside on the deck with panoramic views that included omelets, bacon, waffles and fresh fruit…oh, the waffles! Thank you Chef! You can order your complimentary lunch to eat inside, out on the deck or the beach—we simply ordered ahead and picked up our filled bag when ready any time before 2 p.m.
The Inn has installed numerous hand sanitizing stations throughout and staff is required to, at a minimum, wash or sanitize their hands every 30 minutes, wear masks at all times and wear gloves when necessary. They also limit the number of guests at any one time. There are floor decals, signage and tabs on doors to cleaned rooms. And the private beach chairs and umbrellas are placed six-feet apart by the friendly attendant.
Though a slightly different Henderson Park Inn experience, it was extremely memorable, relaxing…and safe. I'm ready to go back!
For a complete list of Henderson Park Inn's safety procedures or to book your own Staycation, visit hendersonparkinn.com.