By Lori Leath Smith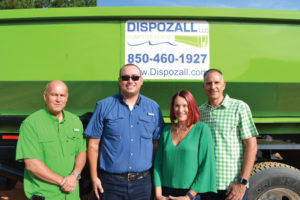 When Bryan Cuff landed in our community from South Africa, he was looking to begin a new business venture. His friend and longtime local resident Michael Ward identified a need: more roll-off dumpsters on the Emerald Coast to meet the demand of growing housing and commercial developments accompanied by impeccable customer service. After all, based on U.S. Census data for 2017, Walton County is the fastest growing county in Florida and the sixth fastest growing county in the nation. And in 2018, VPS was named the fastest growing airport in the country. That's right, people are moving here, setting up shop and doing business here at a faster rate than the counties home to Miami, Tampa and Orlando.
Hence, Dispozall Dumpsters was founded in 2019 by Bryan and Michael. On the surface, Dispozall might not seem very different from other dumpster rental businesses. "But, it's not only 'what we do' that sets us apart, it's the 'how we do it' that makes us special," says Bryan. "After attending a number of BIA Builders' Breakfast meetings, it was apparent that one of the challenges contractors face is the ability to get dumpsters delivered and collected in a timely manner," says Bryan. "Many have spoken about the lengthy process—the time it takes to be serviced, which impacts contractors' abilities to service sites and maintain a site's appearance as well, particularly in some of the HOAs who penalize contractors for messy sites."
"We realized there was an opportunity to start a quality, service-oriented dumpster rental business which gives us the ability to service our clients with a reduced order-to-delivery-time and similarly on collection," says Bryan.
Having successfully launched in August 2019 and based in Santa Rosa Beach on Hwy. 98 West, the company has already gained significant traction and expanded its services to include 15-, 20- and 30-yard dumpsters. The two have been focused and dedicated to the company's service and consistent updating for contractors, and as a result have already exponentially grown their customer base as well as securing some credible corporate accounts. "We've been listening to our customers and have expanded our dumpster capacity to support our local customer base which continues to grow in the area," Bryan says. "And stay tuned…we have some exciting developments for the second half of the year which we believe will make our clients' lives significantly easier."
Dispozall Dumpsters services the panhandle of Florida with roll-off dumpster rentals for large commercial construction companies, general contractors, and even homeowners, whether for demolition, remodeling project or any other type of clean-up project. "We carry a variety of different dumpster sizes and we will work with you to set up your delivery and pickup when it works best for you," says Bryan. There are short-term (10 days), long-term (30 days) and customized rental plans available.
Bryan says Dispozall Dumpsters seeks to differentiate itself by offering upfront pricing along with flexible rental structures, which can be project specific. "As a small business, we strive to exceed customer expectations by providing a personal touch to meet your changing schedule and requirements," he says. "We'd like nothing more than to have the opportunity to care for your business, home or community with timely quality and care. We really do look forward to being of service to you, our contractors, businesses and the region." Contact their team with questions, quotes or more information at (850) 460-1927 or email them at bryan@dispozall.com.