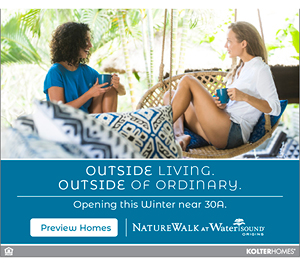 By Ron Sandstead, Flutterby Antiques on Main St.
Creating art does not require a lot of tools or equipment. An artist can work with the simplest of things. Give them some charcoal, a hammer, a chisel, clay, tile, paint or even broken glass and they will make something beautiful. For those of us who are artistically challenged, it has always been a mystery how this process works. To quote Vanessa Hogge, a famous ceramic artist: "There seems to be some driving force that propels artists forward — to create the next thing. It is like a search for intense beauty. No matter how wonderful their artwork, they are always trying to improve on what they have already created — to move on and make it even better – more beautiful."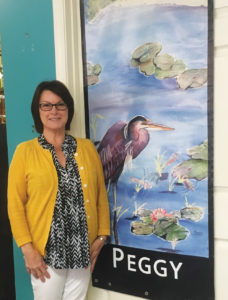 Water color artist Peggy Rowe grew up and graduated high school in Pensacola. She became interested in painting in high school and still considers it a fun hobby. She has two adult children and has spent most of her professional life working as a design consultant. Throughout her life, painting has been her way of relaxing and relieving stress. She loves water colors and considers painting with them her passion — although sometimes, she likes to "mix it up a little" and paints with oils and chalk. Peggy does not display her work in galleries, but often participates in art festivals where she sells her paintings. She also paints and sells greeting cards.
Peggy chose to paint a Great Blue Heron standing in a Koi pond for her banner. We are all familiar with these stately birds and their slow movements when hunting. Standing 4 feet tall and flying with a 6 foot wingspan, they are hard to miss. One thing is certain. They don't like being disturbed and will start squawking if you get too close. Peggy's portrayal of a heron stalking Koi in a pond is one many of us are familiar with. Typically, it doesn't end well for the fish. For her painting, Peggy used her soft colors and lightly flowing paint to create a scene of peace and beauty. She created the essence of a tranquil summer afternoon – unless this is your back yard and your Koi pond. Then you are having a heart attack trying to get outside to rescue your fish. Well done, Peggy!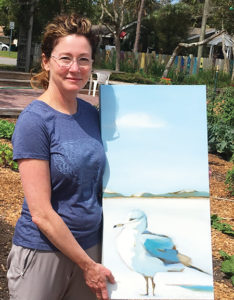 "Find Joy in Art" is not just a slogan for Kathleen Broaderick. They are words she lives by. A Florida native, Kathleen grew up in the Ft. Lauderdale area and went to Florida State University majoring in advertising. In her final year at FSU, she took a watercolor painting class and her passion for art began. After living in Niceville for 15 years, she and her husband Paul moved to Miramar Beach. In the summer of 2017, Kathleen opened her studio CHROMA on 30A in South Walton County. She has been married for 30 years, is the mother of two adult children and has been living her dream of creating and teaching art in her studio. She is comfortable teaching all mediums but prefers using oil for her best work. With her online presence at https://chroma30a.com/contact, she has an extensive following both in the U.S. and internationally.
For her banner, Kathleen Broaderick chose to paint a seagull on a white sand beach. When you study the painting, there are several things that are striking. The seagull is standing alone facing into the sun. The gull seems to be half asleep. Yes. It is resting. But, there is more. It is a traveler. It can fly. It is free. I am reminded of the story "Jonathan Livingston Seagull" by Richard Bach. As Jonathan said, "We're free to go where we wish and to be what we are." Of course the story of Jonathan and freedom is really about us. And so, the painting by Kathleen is… Just Right!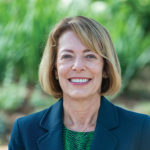 Every project has a beginning. There are always meetings and brainstorming sessions. Invariably, there are those people who connect with your ideas and decide to join you in your mission. Myra Williams, Vice President of Marketing for the Howard Group, was one of those people and became one of our early supporters. Over several months, Myra suggested a variety of ways to market our project to the city and to our local artists. One of our first steps was producing a rack card that explained our project and how to participate. When it came time to get banner sponsors, Myra presented our project to Keith Howard, and our second sponsor was on board! Thank you Keith Howard, Myra and the Howard Group team for believing in what Destin can be. You truly are Destin heroes!