Avast, ye Mateys! It's time to open your treasure chest, dig out your eyepatch and sword, and get ready for the 64th Annual Billy Bowlegs Pirate Festival, which takes place at the Fort Walton Landing (139 Brooks Street in Fort Walton Beach) from May 31 through June 3. This year's festival theme is "Booty Calls."
The Festival begins at the Landing at 3 p.m. on Friday, May 31. From 4 to 7 p.m., Capt. Davy and the Crossbones will present their unique combination of magic, balloon sculpting, music and pirate-themed contests. There will be a "Defense of the City" demonstration by Reed's Raiders at 6 p.m. Capt. Billy and his Krewe will dock at the Landing around 7 p.m. for their reconnaissance mission and a skirmish with the Mayor and Reed's Raiders. On Friday night, Conjugal Visit will play from 7:30 to 9 p.m., followed by the festival fireworks.
On Saturday, June 1, the Festival grounds will open at 11 a.m. The day will be filled with pirate revelry and music, with a performance by Matizzy from 11:30 a.m. to 2 p.m. The Bowlegs Krewe is expected to attack the city at approximately 2 p.m. We'll see what tricks and strategies Mayor Dick Rynearson and the Reed's Raiders will use to repel Capt. Billy's invasion this year. Their invasion will be followed by a closing set from Capt. Davy and the Crossbones before the festival closes at 6 p.m.
Stop by the Gazebo and visit with your favorite Cumulus radio on-air personalities and register to win "Billy's Booty," better known as CASH, from Cumulus. They'll give away $100 each hour on Saturday from Noon until 6 p.m.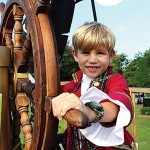 Throughout the Festival, there will be entertainment on the main stage and there will be a large kids' Pirate Play Zone, sponsored by Kids Discovery. Kids' bracelets, allowing unlimited access to all the children's attractions, will be available for $15 each day. Attractions will include the rock wall, Euro-Bungee, and Space Walk of Fort Walton and Crestview interactive attractions – as well as the RPM Kids' Carnival.
The Billy Bowlegs Torchlight Parade, sponsored by Step One Automotive Group, will be on Monday, June 3 at 7 p.m. The parade floats will wend their way from First Street up Eglin Parkway, with crowds screaming for beads and throws from the festive floats. Local businesses and organizations – even family groups – are invited to join the cavalcade. Pre-register your float at FWBChamber.com.
The 64th Annual Billy Bowlegs Pirate Festival is sponsored by the Greater Fort Walton Beach Chamber of Commerce, Tobacco-Free Florida and the Chamber's annual sponsors: Bit-Wizards, City of Fort Walton Beach, Community Broadcasters, Cox, Cumulus Broadcasting, Carr, Riggs & Ingram, Emerald Coast Harley-Davidson, Emerald Coast Tourism Development Department, FastSigns, Fort Walton Beach Medical Center, Image Printing and Digital Services, Northwest Florida Daily News, Okaloosa Gas, ResortQuest by Wyndham Vacation Rentals, Southern Rentals and Real Estate, Step One Automotive Group, The Island, by Hotel RL and White-Wilson Medical Center.
Vendors are invited to submit their applications to Rachelle Graves at the Greater Fort Walton Beach Chamber of Commerce at 850-244-8191.