By Will Estell
Another year is in the books, and just as each one that has preceded it, the 30A Songwriters Festival was once again a monumental success. The 10th anniversary festival was filled with stories, songs and sing-alongs from some of the most talented songwriters in the entire country. All converging on the most beautiful beach communities anywhere for one primary purpose: to put smiles on the faces and songs and good times in the memories of attendees from around the country.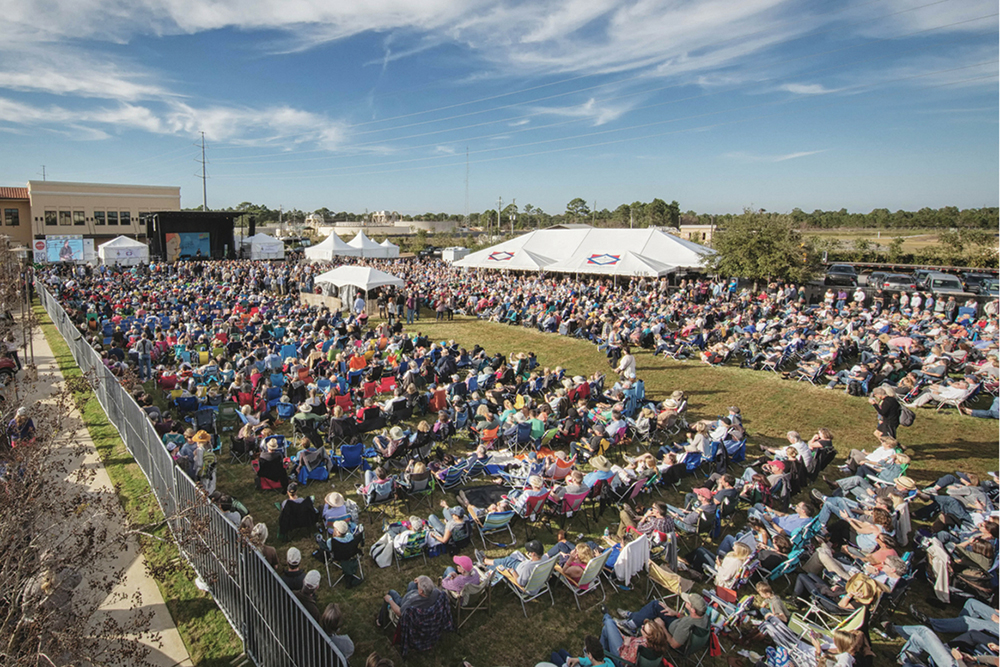 This marked 10 years of what has now grown to be one of the most popular songwriter's festivals in the country, and one that continues to somehow outdo itself year after year. With general admission tickets selling out months before the event, and even many of the VIP packages being in short supply well before the first acts even start planning their treks to our little piece of paradise, there's no shortage of success associated with the popular event. All of this, I believe, a strong testament to the powers that be and people working the magic that makes it all come to fruition: The Cultural Arts Alliance of Walton County.
With over 175 artists comprising 225 performances in 25 unique venues across South Walton, it's truly a fete of epic proportions to pull this off. Yet, pull it off they do, and somehow even manage to make it look simplistic. If there is any downside to so many great writers and performers piling their combined talents into the stretch of beach towns dotting now famous County Hwy. 30A, it's simply that it's impossible to see everyone you would like to see over the duration of the three (four if you count some early shows Thursday night and late ones Monday) day holiday weekend. Let's be honest though, having too much talent on tap is a pretty high-grade problem. It's also one I personally found myself having to make amends with, simply catching who I could, where I could.
Being a writer, as well as, a big fan of music in general, I'm more than a little interested in the lyrical and musical magic that brings out some of the tunes we all listen to. As such I tend to gravitate not only to the best known artists, but as much to those who are simply great writers who love their craft. One of the definite "musts" for me was catching Towne, a Nashville based band, who I first saw perform last year then befriended and stayed in touch with since. The group is powered by the lead vocals and songwriting of Stephanie "Steevie" Steeves and Jon Decious. The two are remarkable as writers and singers, and Jon as a very accomplished guitarist too. I was able to catch up with them before their Friday night show at Seaside's REP Theatre. If you haven't seen them, you should. Their writing is both deep and catchy, and their combined voices really work so well together that I can't imagine anyone recording their songs and possibly being able to sound any better than they do.
Steevie had this to say when I asked about their multiple trips to the festival, "30A Fest is hands down the best songwriting festival we've ever played. Then community genuinely respects the craft and shows up with so much love for the songwriters. As a band that writes our own songs, 30A is the perfect place to try out new material." In fact, the group is trying to find more gigs in the area so they can make the trek to the beach more often. "We love the 30A community so much that we want to play more shows here" says, Decious.
Another unique group I was able to catch up with was the Raelyn Nelson Band. That's right, Nelson, as in Willie's granddaughter. Don't for a moment think this band is riding in on anyone's name though, as Raelyn and her band mates are definitely doing just fine relying on their own talents. A little bit hard Southern rock, a little bit country, and a whole lot of fun to watch. That's exactly what the Raelyn Nelson Band represents. I mean have you ever seen anyone do a speed grunge version of John Michael Montgomery's "Grundy County Auction"? What about with a ukulele? Yeah, that's what I thought. Look them up, watch a clip, listen to their originals, and check out that explosive stage presence with such an ability to connect to their listeners. We got to hang out with Raelyn and the band for a while after their show and she had this to say about 30A Fest, "We absolutely love playing the 30A songwriter festival. With so many bands playing and so many venues involved, it's inspiring to see a community of volunteers come together and create such a beautiful and welcoming experience for songwriters. One of our favorite parts is getting to meet all of the attendees who really appreciate good songs and great music. We hope to come back every year! "Look for an upcoming article about The Raelyn Nelson Band and Towne in coming issues of Beaches, Resorts & Parks magazine too… they're just that good!
I was also able to take in the big headlining shows of Rosanne Cash and Jason Isbell and the 400 Unit, two of the big draws that played back to back on Saturday at Grand Boulevard's Main Stage. Both played to pack crowds and really managed to connect with the crowd. Cash more so with her brilliant observations on life's journey, and the stories she painted like pictures over the crowd, and between the music. Whereas Isbell took a more humorous direction in connecting and interacting with the packed lawn. Cash remarked that though it was her first time playing the festival, it certainly wasn't her first time to the area, and that 30A represented some of the best beaches in the world and one of her favorite personal vacation spots for many years. Isbell's band also consist of his wife, Amanda Shires, and guitarist, Sadler Vaden, accomplished artists even outside of The 400 Unit, who both had separate 30A Songwriters shows of their own during the weekend.
I also caught a great performance by Drivin' N Cryin, at The Hub on 30A. I've been listening to this band since their early hits in 1989, and have seen Kevn Kinney, Sadler Vaden, and various lineups of this hard Southern folk rock band a few times over the past three decades. They never cease to disappoint, and the festival show I attended was no exception. Rocking out with a host of other 20-something's to 50-something's, in front of the stage we were greeted with classic hits like "Straight To Hell," "Honeysuckle Blue" and "Fly Me Courageous," as well as a host of other great tunes. Sadler Vaden even joined them onstage for this show, making it that much more appealing to witness up close. Founder and lead vocalist of the Atlanta based band, Kinney, says he loves performing at songwriter's festivals across the country, but especially likes 30A for a backdrop. "This is just one big party at the beach, and the festival goers and locals alike, really do support the music and make us all feel right at home, away from home."
Artists like the ones mentioned here and so many more are just part of the equation that make the 30A Songwriter's Festival so appealing. For people who aren't accustomed to being able to see these beautiful white sands and emerald waters every weekend, the area that encompasses the festival holds a lot to be desired whatever your taste in music, but for us locals this is just one of many wonderful events that so many people take for granted, happening right here in our own piece of coastal paradise. If you haven't attended in a while, start planning for next year, you'll be glad you did. That's all I can say… the music will explain the rest.
About the writer: Will Estell is a multi-published writer with well over 200 magazine articles and two books to his credit. Estell has been instrumental in bringing eight new magazines from conception to fruition for various publishers over the past 20 years, including Beaches, Resorts & Parks, the nationally available travel and lifestyle magazine he founded and continues to serve as Editor-In-Chief of under its new ownership by Destin based Travel South Media. Estell is a big fan of music and has managed to combine that and his own writing, having done feature cover interviews with the likes of Kenny Chesney, Jimmy Buffett, Darius Rucker, Alan Jackson, Sara Evans and many others. Having grown up in the backwoods of North Mississippi, he later spent most of adult life in Oxford, Alabama before making the move to Destin last year. Look for his upcoming one-on-one cover feature with Florida Georgia Line in the spring issue of Beaches, Resorts & Parks.