Wild Mushroom & Ginger Sausage Stuffing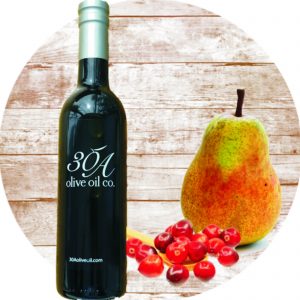 This amazing stuffing recipe from 'The Olive Oil & Vinegar Lover's Cookbook', available at 30A Olive Oil, can be used with your Thanksgiving or Christmas feast. Shop the oil and balsamic ingredients at their tasting gallery, located in 30Avenue.
Makes 8 cups or enough to stuff a standard turkey
Ingredients:
1 large onion, chopped
2 garlic cloves, minced
2 stalks celery, chopped
1/4 cup, plus 2 Tbsp 30A Olive Oil Mushroom & Sage Infused Olive Oil
1lb Italian sausage, casings removed
4 eggs
1 cup vegetable stock
1/4 cup 30A Olive Oil Honey Ginger White Balsamic Vinegar
5 cups fresh bread crumbs
1 cup chopped dried apricots
1/2 cup fresh cranberries
2 Tbsp roughly torn sage leaves
Directions: 
Preheat oven to 350 F. Lightly oil a 7×11 in. baking dish.
In a small pan, saute the onion, garlic and celery in 2 Tbsp. olive oil over medium heat until almost translucent, about 2 minutes. Add the sausage meat and brown it in the onion mixture until translucent, about 5 minutes. You shouldn't need to break it up unless you like it really fine.
In a large bowl, beat the eggs with the stock, balsamic and remaining 1/4 cup olive oil. Gently mix in the breadcrumbs, apricots, cranberries and sage leaves. Add the sausage mixture and toss to combine, ensuring the bread is well soaked in the egg mixture.
Press the stuffing mixture into the baking dish, cover tightly with aluminum foil, and bake for 45 minutes.Remove the foil and bake uncovered for 7 minutes to let the top crisp. Let stand for 10 minutes before serving.
*For a bit of change, you can bake this in a muffin pan. Just oil the muffin cups and proceed as above, baking for 20 minutes.