Alaqua Animal Refuge will host its 10th Annual Sip N Shop event on Friday, April 3 at Emeril's Coastal Italian in Miramar Beach beginning at 11 a.m.
Presented locally by Insurance Zone, the event is in partnership with the Emeril Lagasse Foundation and is one of five events included in the annual Chi Chi Miguel Throwdown Weekend held each spring in Santa Rosa Beach.
Chairing the event is the dynamic duo of Lea and Joe Capers, who have led the success of the Sip N Shop for the past five years. "The Sip N Shop is a super fun occasion when we all, as a community, come together to support Alaqua and the work they do 365 days a year," said Joe.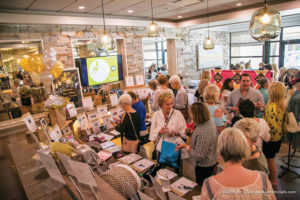 Celebrating a decade of sipping, this year's Sip N Shop is once again set to be a festive day of sipping, shopping, socializing and savoring! There's live music, welcome cocktails and champagne, a specially selected 3-course seated luncheon with wine, an amazing silent auction, fab photo area, and of course, a couple of celebration surprises.
The brainchild of Valerie Thompson, the Sip N Shop began in 2010 and has now grown into one of Alaqua's premier and signature fundraising events. Thompson and her husband, Mike, co-founded the Chi Chi Miguel Throwdown Weekend. In fact, the entire weekend is named after Mike, as "Chi Chi Miguel" was his childhood nickname.
The annual event is one of Alaqua's largest fundraisers in support of the refuge, and helps to sustain the shelter's daily operations and provide ongoing funding for a variety of programs and services in support of Alaqua's mission.
To purchase tickets, visit www.ChiChiMiguel.com or email SipNShop@Alaqua.org.