By Scott Miller

With summer squarely in the rearview mirror, fall is now in full swing. Now, that brings a few thoughts to mind—cooler weather, the holiday season is on its way and…football season is rocking and rolling again! As always, true passionate football fans have already experienced some ups and downs which either get us fired up with happy exuberance or, in some cases, sends smoke rolling out of our ears.
Ah yes, football season is not for the faint of heart. But we absolutely love it!
The good news is there's still plenty of season left to play and we know just where to go to watch this week's biggest games. Along with all that Destin offers us locals, great places to watch your favorite teams play ranks right up there.
Where else can you enjoy the pristine beauty of the Destin Harbor and the elegant beauty of an 80-yard touchdown run, all from the same seat? Sounds like game day at Tailfins to me.
Of course, that's just one of many great options for our local passionate football fans. Just listen to the banter,  "The SEC is the best conference in the country" some say. "Oh no it's not—the ACC is the best!" someone else fires back. "Hold on there partner, Big 10 is top dog," and round it goes. Yes, indeed the debate roars on again…
Football, fans, fun and the best game-day watching eats around—the fall season is upon us!
So, back to those great local places to go and watch your teams you say…well yes ma'am, yes sir; Island Wing Company, Jim n Nick's, Landshark's Pizza, Tailfins, and Tequila's Sports Bar — you just can't go wrong with that lineup.
All unique in their own way with a common thread too—great food, great atmospheres, great places to watch the games.
A can't miss choice for where to watch your football is the Island Wing Company. Just as the name announces, they offer an amazing, tantalizing variety of wings and a huge selection of draft beer, all while comfortably watching your favorite teams on their many large, flat screen TV's. It's a favorite local's hang out!
981 98 Palms Blvd, Destin
(850) 837-2999
Thinking more along the lines of some world class BBQ?
Then you want to arrive at Jim 'n Nick's. You can't go wrong– it's all delicious, from the pork barbecue, to the mouth-watering ribs, beef brisket and homemade biscuits. This barbecue makes any game day even better. Jim n Nick's also features a full bar and drink specials, too, with TV's perfectly situated for football watching and a family atmosphere. Tailgating? Call ahead and pick up a take out for your tailgate!
14073 Emerald Coast Pkwy, Destin
(850) 424-5895
If you're more in the mood for lively and unique pizza and wings to accompany watching your favorite teams, we recommend Landshark's Pizza. It's a cozy sports bar with friendly staff, beer on draft and a family atmosphere. With TV's galore, you're sure to catch all the action!
300 Harbor Blvd, Destin
(850) 424-6743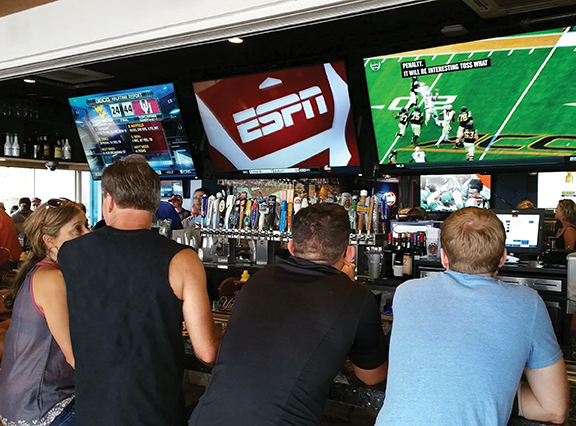 Tailfins on the Harbor offers three floors of fun and excitement along with breathtaking views of the Destin Harbor. They offer game day specials, and sport big screen TV's everywhere you look along with cold and tasty beverages to suit your every desire. And, while you're there for the games, you can enjoy live music starting at 9 p.m. every Saturday and Sunday night.
172 Harbor Blvd, Destin
(850) 650-1200
Want an international flare to your football watching hotspot?
Try the newly-opened Tequila's Sports Bar and Restaurant. They serve Mexican food on a par of its own—it's absolutely delicious! Tequila's features "2 for 1" Margaritas and offers specials on beer and wine too. It's an artsy, beautiful atmosphere and a fun festive environment for your football watching enjoyment.
11225 US 98W, Miramar Beach
(850) 279-6402
October Game-Day Schedule Highlights
Saturday, Oct. 6
Alabama @ Arkansas 11AM CT on ESPN
Missouri @ South Carolina 11AM CT on SEC Network
LSU @ Florida 2:30 PM CT on CBS
Kentucky @ Texas A&M 6:00 PM CT on ESPN or 6:30
PM on ESPN2 or SEC Network
Auburn @ Miss ST 6:30 PM CT on ESPN or 6:30 PM on
ESPN2 or SEC Network
Saturday, Oct. 13
Auburn Vs. Tennessee TBD
Georgia @ LSU TBD
Miami @ Virginia TBD
Wisconsin @ Michigan TBD
Mich St. @ Penn St. TBD
Saturday, Oct. 20
Alabama @ Tennessee TBD
Auburn @ Ole Miss TBD
NC State @ Clemson
Michigan @ Mich St. TBD
Ohio St @ Purdue TBD
Saturday, Oct. 27
Georgia @ Florida 2:30 PM CT on CBS
Tennessee @ S Carolina TBD
Clemson @ Florida St. TBD
Iowa @ Penn St. TBD
Texas A&M @ Miss St. TBD
Saturday, Nov. 3
Alabama @ LSU TBD
Texas A&M @ Auburn TBD
Georgia @ Kentucky TBD
Louisville @ Clemson TBD
Penn ST @ Michigan
Ohio St. Vs. Nebraska