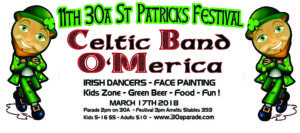 Everyone is Irish on St Patrick's Day!  And where better to be green than at the largest St Patrick's celebration on Florida's Emerald Coast; the 30A St Patrick's Parade and Festival. The parade kicks off at 2pm and the festival follows at 3pm at Arnett's Gulfside Farm and Stables in Santa Rosa Beach. The entertainment after the parade will start with the Drake School of Irish dance, followed by an afternoon of Irish jigs and reels with The O'Mericans.
There will be an array of activities for the kids and adults, including face painting, best dressed pet, best Redhead (girl), Best pirate (boy), 30ft Slides, and much more. Food vendors with traditional corned beef and cabbage and green beer will be available.
The 11th Annual Large float "Krewes" and other exotic floats have already entered the parade. It begins on Florida Scenic Highway 30A in Redfish Village, Blue Mountain Beach and heads 4 miles west, ending at County Road 393. Then the Festival begins at 2pm just up the road at Arnett's Farm and Stables . Walton County Commissioner Tony Anderson will be this year's Grand Marshal.
"Every year surpasses the previous in imagination and effort in decorating the various parade entries," says Paul Vizard, event founder. "To see the faces of joy on the kids and spectators is just fantastic, I am very grateful for the support of our sponsors and the community."
The Best in Parade perpetual trophy is up for grabs for the best decorated car, truck or float, which was won last year by ResortQuest by Wyndham Vacation rentals. Festival goers can purchase commemorative T shirts, experience arts and crafts, kids activities, face painting, and of course a variety of food and drinks. A few sponsor spots, vendor tables and tent spaces are still available, and businesses are encouraged to be a sponsor- details can be found at www.stpatricks30a.com
Ticket prices begin at $10 for adults, kids are $5 each, children 4 and under are free. Tickets are available now at www.30aparade.com.